How Plumbers in Boca Raton Fix Sewage Back Up
Posted in General Plumbing Services, on May 07, 2021
---
A sewage backup is one of the worst problems that can happen in your home. Not only is it smelly and inconvenient, but it can also cause extensive damage to your home and plumbing system. With the help of a licensed plumber in Fort Lauderdale, Florida, you can get help repairing your sewage system and preventing any further sewage backup. At Broward Plumbing, our team of licensed plumbers near Boca Raton can help you during any plumbing emergency. Here is our guide to fixing your sewage system.
Signs That Your Sewage Might Be Backed Up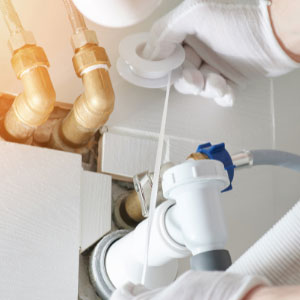 Although there are some well-known signs of a broken sewage system, including noticeable sewage backup in your toilet or bathtub, there are many lesser-known signs that could indicate you are dealing with a significant problem. Signs of sewage backup include a flooded yard or significantly greener grass near your sewage pipe. As well, you may notice a sewage smell coming from your basement or backyard. Other less common sewage backup signs include a gurgling sound coming from your toilet, a lack of water in your toilet, and a slow draining bathtub. If you are experiencing any of these issues, it may be time to call a licensed plumber near you.
What Causes Damage To Your Sewer Pipes?
Damage to sewer pipes can occur because of built-up hair, grease, food, toilet paper, or other debris. Environmental factors such as freeze-thaw cycles, earthquakes, tree roots, and even nearby construction can all cause damage to sewer pipes and create sewage backup. Wear and tear and a lack of maintenance can also cause damage to your sewer pipes over time.
Sewer Line Repair Solutions
Pipe relining can protect your sewer pipes from the inside out to fix damage and help prevent future issues. We use hydraulics or trenches to replace any damaged pipes that are not repairable.
The best way to repair sewer damage is to prevent it in the first place! We recommend regular professional inspections by a licensed plumber in Broward County, frequent cleaning of your piping system to avoid damage to your plumbing system over time, and cast iron pipe repair in Boca Raton if your property has not been upgraded to PVC.
Steps Of Trenchless Pipe Repair
To avoid extensive damage to your property and prevent your plumbing company from needing to dig up your entire yard, you can use trenchless options for sewage pipe repair. At Broward Plumbing, we use hydraulics to repair and replace damaged sewer pipes without needing to dig any trenches. Trenchless options are a less invasive method for efficiently repairing sewer damage.
Trusted Sewer Line Repair Plumbers in Boca Raton
Whether you are dealing with a sewage backup, a broken pipe, or a clogged drain, the expert team at Broward Plumbing can help you fix your plumbing in no time. We will send a licensed plumber in Florida to your home any time of day or night to fix your plumbing emergency.
If you are concerned that you may be experiencing a sewage backup, contact the Broward Plumbing team at 561-570-7777, and we will send a plumber to inspect your system and yard for damage.