Garbage Disposal Maintenance Tips from Licensed Plumbers
Posted in General Plumbing Services, on February 19, 2020
---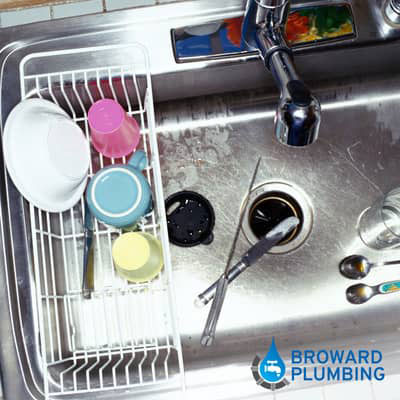 An in-sink garbage disposal - also known as a garburator or insinkerator - can be an excellent tool to have at home. It makes cleaning up after a weekday night or dinner party quick and easy, it helps keep your kitchen smelling fresh, reduces your trash, and helps to improve your drainage by ensuring nothing large falls through. But a breakdown can quickly turn into a big hassle and necessitate calling a licensed plumber in Broward County. Skip searching for a 'plumber near me' and let Broward Plumbings plumbers in Boca Raton and plumbers in Fort Lauderdale for high-quality plumbing services that keep your garbage disposal running smoothly with these easy do and don'ts.
What Not to Do With Your Garbage Disposal
Not everything can go down your garbage disposal, and following your manufacturer's guidelines and these simple tips will help to keep you from an emergency call to a licensed plumber in Broward County.
Don't use hot water during grinding. Water is essential for a successful disposal, but make sure you have the cold water turned on - hot water will cause fat to congeal and get stuck to the blades, reducing their efficacy and making repairs more likely.
Don't fill it to the top. If you've got a lot of waste to grind, it's better to do it in smaller loads. Not only is it more efficient, it ensures nothing gets blocked or jams the blades.
Only grind food. Paper towels, plastic bags, rags, or other non-edible materials are not only bad for your garbage disposal, they're not good for the sewage system either.
Don't use chemicals. They can damage your disposal unit, and harm you and the environment.
Don't put grease, oil, pasta, or other fibrous waste through it. These will clog your drain and should be disposed of in your regular household waste.
What You Can Do With Your Garbage Disposal
Do use cold water during grinding. A steady flow of water will help wash all the food through and keep your grinder from overheating.
Do use a degreaser. Use a product that's recommended by your manufacturer or that's made especially for garbage disposal machines to remove fat and grease buildup in your drains.
Do use ice to clean it. Running a small amount of ice through your disposal unit will help keep it clean - just don't forget to secure the rubber stopper before you turn it on!
Do clear the drain. Call a licensed plumber in Broward County (like us!) to do regular pipe and drain cleaning to keep things running smoothly.
Do use citrus to freshen your machine. After making your morning glass of OJ, grind the peels through your garbage disposal to keep it smelling fresh.
Preventative Maintenance Helps Keep Your Garbage Disposal Running Smoothly
Garbage disposal systems were first invented in the 1920's and have been a dependable part of American kitchens every since. Whether you have a disposal system you love, are looking for an upgrade, or are considering installing one in your home, the licensed plumbers at Broward Plumbing are happy to help you upgrade your kitchen. Installation is simple - let us tell you more by calling 954-516-7777, or making an appointment through our convenient online form.
Save On Your Next Plumbing Service With Broward Plumbing!