Get Your Water Leak Fixed by Expert Plumbers Boca Raton
Posted in General Plumbing Services, on July 16, 2021
---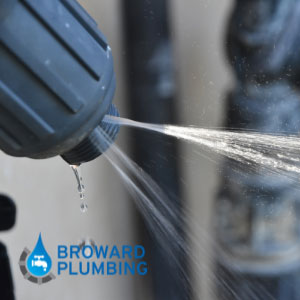 Every plumbing problem is different. Some, like a clogged toilet or a slow drain, are pretty obvious. Other plumbing issues like water leaks are hard to spot as the plumbing pipes are usually hidden behind walls, sinks, and basements. Unfortunately, even a small water leak that goes unnoticed for a long time can cause severe water damage and eventually lead to an expensive water bill! Don't put yourself in that position—recognize the signs of a water leak and call on Broward Plumbing's expert plumbing services in Boca Raton. We enlist below 4 warning signs of a water leak. Make sure you do not overlook them and hire water leak repair services in Boca Raton asap!
1 Abnormally High Water Bill
Water bills are usually consistent and tend to remain in a similar range with a variance of around $10-$15 per month. Summer months could show an increase if you have a large pool or garden. However, if your water bill spikes without any apparent reason, it is a telltale sign of a hidden water leak in your home. Contact a reliable plumber in Fort Lauderdale, Boca Raton or Broward County to save on skyrocketing water bills and stop water wastage.
2 Water Stains / Wet Spots
Water leaks can cause wet stains and spots around the house. If you see water stains on your walls, floor, or ceiling or find wet areas near toilets and sinks, it is often a warning sign of a water leak. Bubbling drywall and buckled floors also signify water damage and require expert water leak plumbing services to diagnose and rectify the problem.
3 Low Water Pressure
Nothing is worse than hopping under the shower, only to find a sad trickle instead of the usual invigorating spray! If you notice a weak or low water pressure from faucets and showers, there could be a leak in your plumbing system. This low water pressure can be intermittent or regular, but both indicate a potential plumbing issue.
4 Running Water Sounds
If you can hear sounds of running or dripping water even when you are not using any water fixtures, it is a clear sign of a water leak. Bubbling sounds from sinks and toilets point to small leaks, while loud sounds could signify intense water damage. Unusual water noises point to a water leak—contact a professional water leak plumbing service like Broward Plumbing to conduct a leak detection test at the earliest!
Leak Repair & the Certified Plumbers in Boca Raton
Ignoring a water leak can not only cost you thousands in inflated water bills and water damage, but it can also be hazardous for your health. Moisture can lead to mold and mildew that is toxic for children, the elderly, adults with allergies, and even pets. Don't risk your family's health—call experts at Broward Plumbing to fix that leak! When it comes to water leak plumbing services in Boca Raton, Broward Plumbing offers the most efficient and affordable water leak detection and repair. Our plumbing professionals have helped thousands of homeowners get to the root of water leaks using top-of-the-line equipment and extensive knowledge. Our drain camera inspection is one of the least invasive methods to detect and repair water leaks.
If you suspect a water leak in your home, contact the Broward plumbing team without delay!
Our emergency plumbing services are available 24 hours a day, 7 days a week, providing peace of mind for you and your plumbing!