Guide to Common Water Heater Repair Codes
Posted in Hot Water Heater Repairs , on February 16, 2023
---
When it comes to water heaters, you don't want to be caught without hot water. Imagine stepping into the shower exp ecting the soothing caress of warm water, only to be shocked with ice-cold water! Though water heaters are engineered to work at maximum efficiency, they can malfunction for many reasons leaving property owners in need of water heater repair. Luckily, most modern water heaters have a digital display that can flash error codes which can help identify the problem to property owners and plumbers in Fort Lauderdale. These error codes also alert homeowners to issues that go unnoticed until the heater unit stops working.
You'll most likely need to call a plumber in Boca Raton, Fort Lauderdale for water heater repair. However, understanding some standard codes may give you an insight into what's wrong and how to address it.
Here's a guide to common water heater repair codes by the professionals at Broward Plumbing.
Water Heater Ignition Code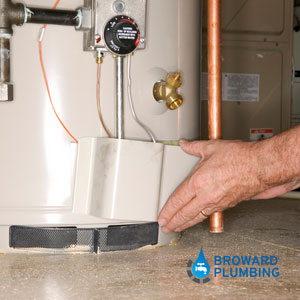 An ignition code on the water heater display indicates starting failure––a problem with the heater's ignition system. Possible causes include inadequate gas supply, airflow problems, or debris clogging the ignition plug.
If your heater's flashing this code, ensure that your gas supply is switched on. Next, reset the heater, check the gas pressure, and test the spark. Also, clean the ignition plug and reinstall it correctly. This should only be done by a certified plumber in Fort Lauderdale with the necessary water heater repair experience.
Water Heater & Abnormal Combustion
An abnormal combustion error code signals a problem with the fuel and air blend. Insufficient gas supply, fuel vent blockage(bird next, trash, etc.), an improperly installed backflow preventer, or gunk inside the fan motor are the usual culprits behind abnormal combustion.
You'll need to call a licensed plumber in Fort Lauderdale to check gas pressure, dip switches, and venting length to diagnose the actual cause and make appropriate repairs. When trouble arises with your water heater, don't hesitate to contact the Broward Plumbing team for emergency plumbing services near Fort Lauderdale, Boca Raton, Tamarac, and the entire Broward County area.
Low Gas Supply & Water Heater Repairs
Insufficient gas supply can be problematic as it can impact heating efficiency and trigger a drop in hot water pressure. When you see a low gas supply code, call in a licensed water heater contractor right away! They can verify the gas pressure and ensure optimal gas supply for flawless hot water heater functioning.
Circuit Board Abnormality with Electric Water Heaters
An error code indicating circuit board abnormality is usually bad news. It signals a problem with the main circuit board that often occurs after reprogramming. In most cases, the only solution is to replace the entire circuit board, which can be a costly affair. Do not attempt a DIY repair. You must contact a trained plumbing contractor immediately.
Scale Build-Up & Water Heaters
Hot water heaters often end up with unwanted scale build-up. It can trigger problems like decreased heating efficiency and weird noises. If a scale build-up code pops up on your water heater display, you need an experienced professional to perform maintenance using a water softener and descaling procedure.
Fix Water Heater Woes Local Plumbers in Fort Lauderdale
Knowledge of general repair codes can help in timely water heater repair. If you're unsure about the code's meaning or how to fix the issue, always call in a licensed and experienced plumber in Fort Lauderdale. Professional water heater specialists at Broward Plumbing have the knowledge & experience to troubleshoot and carry out the necessary water heater repairs. Broward Plumbing's your trusted full-service plumber in Fort Lauderdale. Experience top-notch service, installations, and repair solutions that last.
Book now to arrange an appointment or emergency service today!