Hire a Water Line Break Repair Plumber In Fort Lauderdale
Posted in Pipe Repair, on April 14, 2022
---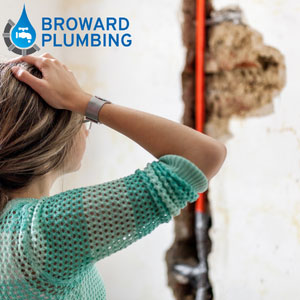 A broken water line can be a devastating experience, especially if it's in the middle of the night. Besides being inconvenient, a water line break often means tons of water damage, having to replace flooring and walls, and thousands of dollars spent on the water line break repair. Hiring a 24-hour emergency plumber in Fort Lauderdale to fix the problem right away is the best course of action. You are searching online for a 'plumber near me' that you can trust to provide quality work and one that offers excellent service 24 hours a day. Read on to know what causes broken water lines and how you can hire a competent plumber for water line break repair.
What Causes Broken Water Lines
Wear & Tear: Water lines can weather down due to the elements. All pipe materials made of PVC, galvanized iron, steel, and Pex have an expiration date.
Shifting Soil: Extremes of weather can cause the soil to shift, leading to a break in the water pipes.
Irregular Maintenance: Ignoring maintenance and warning signs like a leaking water line or a clogged toilet may eventually lead to a water main break.
Tree Root Invasion: Tree roots near the water lines can grow and wrap around the pipe until it bursts.
What To Look For In A 24 Hour Emergency Plumber In Fort Lauderdale
During a plumbing emergency, a reliable and experienced plumber can literally save the day(or night!). Here's how you can find the right plumber for the work at hand.
Check Credentials
Always check for licensing, certification, and insurance before hiring any plumber. Your 24-hour emergency plumber in Fort Lauderdale could turn out to be an unlicensed 'handyman' with no expertise to handle serious plumbing problems. Also, engaging an insured plumber ensures that you are protected from any damages caused during the repair process. An insured plumber will also provide a warranty for their work and materials.
Experience Matters
Look for experienced plumbers or plumbing companies that have been in the business for some time. Emergency plumbing requires a plumber to think on his feet and provide a quick solution for the job at hand. A seasoned plumber will have real-world experience in various situations to tackle plumbing emergencies.
Estimate with Upfront Pricing
A professional plumber will always provide a rough estimate with a ball-park figure of how much the job will cost. Describe the problem as best as possible so that the plumber understands the situation clearly. He can then give you a best-case & worst-case cost with upfront pricing. 24-hr plumbers usually charge a fee to come after-hours; ask the technician for the minimum price to get an idea about how much it may cost you.
Look at References and Reviews
Search for public references and reviews of the plumbing company/ plumber before contacting them. This is the best way to check their reputation with consumers and evaluate whether they are worth hiring. You can also ask for reviews from other homeowners or friends in your area. Needless to say, you want a plumber with many happy clients.
Broward Plumbing: Your Emergency Plumbing Specialist in Fort Lauderdale
If you're looking for a trustworthy 24-hour emergency plumber in Fort Lauderdale, connect with the pros at Broward Plumbing. Our expert technicians are available 24/7 to handle all your emergency plumbing issues, including water line break repair. Contact our 24/7 plumbing expert today!
Save On Your Next Plumbing Service With Broward Plumbing!