How Blockages Interfere with Plumbing Infrastructure
Posted in Pipe Repair, on October 27, 2023
---
The plumbing system is one of the most essential components in a home. Blockages in your pipes can wreak havoc on your home, requiring immediate attention from a local plumbing company. Blockage causes can include foreign objects, sediment buildup or structural defects that require pipe replacement or repairs. Many signs can point to needing plumbing attention. If you are experiencing plumbing hardships, call a plumber in Fort Lauderdale at Broward Plumbing. We offer many services, from water heater repair to pipe repair. To learn more about our services, visit our website.
Read on to learn more about how blockages can interfere with plumbing infrastructure.
Causes of Blockages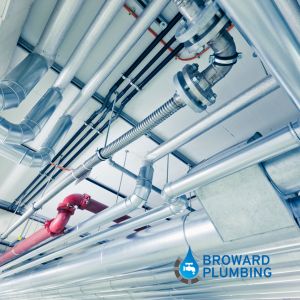 The user doesn't always cause blockages throughout plumbing systems. Yes, foreign objects and substances are often put down the drain (i.e. hair, oils and fats, food scraps, wipes); however, depending on the municipal water of your region, mineral buildup is a common cause as well. Over time, minerals that come into the water often get caught throughout the pipes, creating obstacles. This can easily be fixed with a water softener. This appliance helps to filter out excess minerals in the water to provide homeowners with clean and healthy water. A water heater also helps to strip the moisture of a few of these minerals. Therefore, if there is a mineral buildup in your pipes, this is a sign you may require a water heater repair.
Below are common signs that there is something faulty with your plumbing system, and it needs attention. If you are experiencing the following, call your local plumbers at Broward Plumbing.
Reduced Water Flow
Are you finding that your water pressure is inconsistent or weaker than expected? This can be caused by blockages throughout your plumbing system. This can affect everyday, mundane tasks such as washing dishes, showering, or even flushing the toilet. With this can also come sewer and drain backups.
Increased Utility Bills
Due to the lack of water pressure, these everyday tasks will take longer to complete. As we all know, utility bills depend on how long you spend having the water on; therefore, taking longer showers or flushing the toilet multiple times can put a dent in our bank accounts to pay these high bills.
Mold Growth
Blockages can put a heavy toll on our pipes, potentially causing leaks. Excess water and moisture come from leaks, which can eventually turn to mold and mildew. Mold is a dangerous substance that can affect the health of the individuals who live in your household. With mold and mildew come foul odors that aren't pleasant to live with. Removing mold from home requires expensive services as it must be done correctly. Therefore, once you notice blockages or leaks in your pipes, it's best to call a plumber in Fort Lauderdale as soon as possible.
Pipe Repair with Broward Plumbing
At Broward Plumbing, we aim to ensure our customers are left with quality services so they don't need to call another plumber. We have been the industry local plumbing company for over ten years to keep your homes running. Contact Broward Plumbing today if you require plumbing services in Fort Lauderdale. Our emergency plumbers in Fort Lauderdale, Boca Raton, and South Florida are available to take your call 24/7.