How Do Plumbers Detect Water Leaks?
Posted in Water Leak Detection, on November 28, 2022
---
Most of the time small water leaks typically go undetected as they are tucked away behind walls or in attic cavities. An untreated water leak can wreak havoc on your home—it's critical to identify, diagnose, and repair the issue as soon as possible. Plumbers in Fort Lauderdale recommend contacting an experienced plumbing professional for water leak detection and repair services. If you suspect leaks around your property, trust the Broward Plumbing team for water leak detection services and repair in Broward County.
Continue reading to learn how professional plumbers in Fort Lauderdale detect leaks:
Acoustic Listening Devices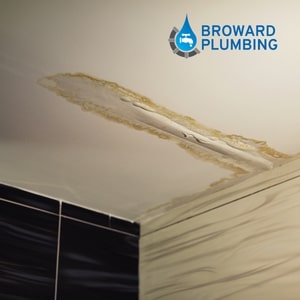 Expert plumbing technicians often use acoustic microphones & Listening discs for water leak detection. Listening discs use sound acoustics to amplify the sound of leaking or dripping water. Plumbers place these discs against walls or concrete to detect sounds of running or dripping water back through connected headphones. This gives the plumber a fair idea of the leak location to the plumber before he tries to access it.
Soil Probe
Leaks in the sewer main or water pipe are often hidden underneath soil layers, usually under yards or lawns. A soil probe helps plumbers in Fort Lauderdale to listen for sounds of a pressured leak. The sound gets louder as the equipment gets close to the leak, allowing the technician to identify the leak position. A skilled and experienced plumber can determine the depth and location of the leak by listening to the various sounds.
Heat Scanners
Plumbers also use heat scanners or thermal imaging cameras to pick up temperature changes that indicate escaping or dripping water. Thermal scanners are helpful in places that are too noisy for employing acoustic listening devices and for hot water units & underground water heating installations. These infrared scanners can locate hot spots on the attached monitor to identify and repair leaks.
Plumbing Camera Inspection
Advances in plumbing technology have enabled the use of Plumbing cameras for the most precise non-invasive water leak detection services. A waterproof miniature camera mounted on fiber-optic cables is inserted into the plumbing pipes. Images inside the pipeline are relayed to an attached monitor that allows the plumber to see inside the lines. This provides the technician with the exact location, size, and other details about the leak. The plumber can then undertake the necessary repairs without unnecessary digging and damage.
Training and Experience
Professional training and experience are other invaluable tools that plumbers in Fort Lauderdale use for water leak detection. Licensed plumbers with experience in the field can often locate hidden leaks without needing special tools or technology. Hiring plumbers with the required experience can make finding those pesky leaks much more straightforward.
Expert Water Leak Detection Plumbers with Broward Plumbing
If you want to prevent wasting hundreds of dollars on water damage and hidden leaks, keep an eye on sudden spikes in your water bill, sounds under the sink, damp drywall & mold. Minimize damage and keep on top of leaky pipes with preventive inspections from Broward Plumbing—your go-to plumbers in Fort Lauderdale. Your local Broward Plumbing water leak detection specialists are always happy to help! We'll locate that leak and make the required repairs in a jiffy!
Keep your plumbing in good shape with water leak detection, full-service repair, and general plumbing services from the experts at Broward Plumbing. Call us for 24X7 emergency plumbing issues or any other plumbing needs today!