How Do Polybutylene Pipes Cause Plumbing Emergencies
Posted in Emergency Plumbing Services, on May 11, 2023
---
Polybutylene pipes were used in the 1980s and 1990s as they were quite cheap and seemingly durable, considered a miracle at the time by many. Unfortunately, polybutylene pipes were made from toxic by-products and are often removed today by emergency plumbers near Boca Raton. Despite their popularity in the region's commercial and residential properties, most owners can't identify that polybutylene pipe repair is needed without the expertise of a certified plumbing company. For detection and polybutylene pipe repair, contact Broward Plumbing.
How to Identify Polybutylene Plumbing Emergencies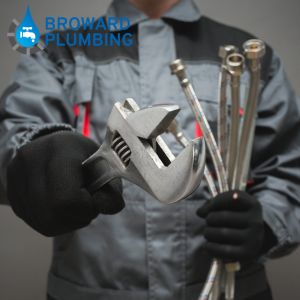 Polybutylene pipes are typically gray, black, or blue in color and range from 0.5 inches to 1 inch in diameter. Wavy textures on black or blue pipes generally indicate polybutylene pipes; they can also be identified if a stamp has a "PB" or "poly" on the water meter. Although polybutylene pipes seemed promising, they became prone to failure creating the need for repair by an emergency plumber by both residential and commercial property owners.
Read on to learn more about whether your pipes need the attention of an emergency plumber near you.
Age of Pipes
Over time, polybutylene pipes degrade and corrode, often caused by water treated with chlorine. These pipes have a lifespan of about 10 to 15 years, so if your home was built in the 1980s or you worry you have polybutylene pipes, get in touch with a Broward Plumbing plumber in Boca Raton for plumbing inspections and guidance, to protect your property before disaster strikes. A certified plumber near you will assess the integrity of pipes and your next steps.
Low Water Pressure
A decrease in water pressure can happen slowly or all at once. When water starts to flow at a slower rate from your faucets, you should consider contacting a plumber for an inspection. Low water pressure is often a sign that polybutylene pipe repair or replacement is critical to preventing a plumbing failure. As they age, polybutylene pipes become brittle and flakey. If the pipe becomes compromised and begins to leak water or develops a backup, it will affect your water pressure.
Leaks & Water Damage
Due to polybutylene pipes' susceptibility to corrosion and failure, they are also prone to leaks. If the pipes are located in the interior of your home, these leaks can cause severe water damage to your property. If you begin to see signs of water damage in your home, like bubbling walls, ceilings, or brown marks, you must act quickly, as water damage will only worsen and require more extensive repairs the longer you wait.
Broward Plumping for Polybutylene Pipe Repair
When polybutylene pipes become a hazard on your property, or threaten the integrity of your plumbing infrastructure, the emergency plumbers at Broward Plumbing are here to help. With our licensed and experienced plumbers near Boca Raton, polybutylene pipe replacement with PVC pipes will save you time, stress, and money, minimizing recurring plumbing repairs and the threat of water damage.
Our team offers PVC pipe replacement as PVC pipes are durable, resist corrosion, and can handle high water pressure. They are excellent value for property owners and have a projected lifespan of over 100 years.