How Excess Rain Affects Your Plumbing
Posted in Emergency Plumbing Services, on October 17, 2022
---
In South Florida, thunderstorms are prevalent between May and October, and many plumbers in Fort Lauderdale are called for emergency plumbing services and repairs due to excess rain. Heavy and frequent rain damages infrastructure causing issues such as flooding, blocked gutters/drains, sewage backups, and burst pipes. When searching for plumbers near you in Fort Lauderdale, you'll want a trusted and dedicated group of technicians with years of experience, like the Broward Plumbing team.
Learn how heavy rain in the forecast can affect your residential and commercial plumbing.
Clogged Drains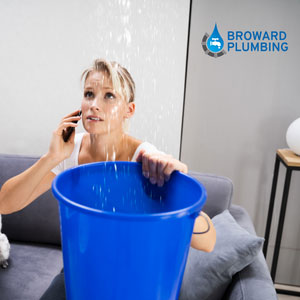 Excess rain becomes an issue for many property owners in Fort Lauderdale, especially if it's not inspected by a professional plumber in Fort Lauderdale promptly. During rainy months, debris seeps into your main sewer line causing damaging blockages. A combination of heavy rains and debris like leaves, soil, and sticks may get clogged in the drain and prevent your wastewater from effectively draining the city's sewer line. If you notice your shower/bath, sink or household drains overflowing, it indicates a significant blockage in your plumbing system that needs to be addressed immediately. At Broward Plumbing, we offer professional drain cleaning services to successfully get your drains cleared and running smoothly.
Indoor or Outdoor Flooding
Significant amounts of rain cause water to accumulate in low points and divots throughout your property. Heavy rains can pool around your downspout or gutters, and if the water has no place to go, it results in various plumbing problems. Outdoor flooding is a sign that your home has ineffective drainage and compromises the stability of your property's driveway, deck, walkway, or underlying foundation. In addition, excess rainfall can soak into the soil around your house and prevent your sump pump from working efficiently. This flooded water can easily infiltrate your home's slab, crawl space, or basement foundation, resulting in a flood. If water enters your house, it is likely contaminated and needs to be removed as soon as possible for your health and safety. Instead of searching for plumbers near you in Fort Lauderdale, contact Broward Plumbing for 24/7 emergency plumbing services.
Pipe Bursts
Frequent thunderstorms put excess pressure on your pipes, as water builds up, there is nowhere for it to go causing pipes to burst and your property to flood. If you notice that your water is colored, tastes strange, or smells like mildew after experiencing heavy rains, a broken pipe is most likely at fault. Pipe bursts quickly cause havoc on the building materials around them. To spare your property and get back to living comfortably, contact Broward Plumbing for fast and cost-effective pipe repairs in Fort Lauderdale.
Expert Plumbers Near You In Fort Lauderdale
If you're looking for a reliable and highly experienced plumber in South Florida, Broward Plumbing is here to help. Our dedicated team of plumbing experts has years of first-hand experience and knowledge that allows us to provide outstanding service to our customers.
Have you experienced excess rain that has affected your plumbing system? Reach out to Broward Plumbing for 24-hour plumbing services today.