How Often Should You Service Your Plumbing In Boca Raton
Posted in General Plumbing Services, on January 10, 2022
---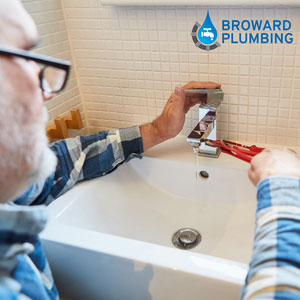 When you need to know how often you should have your plumbing serviced, the best thing is to ask us! No matter the type of plumbing service you need, Broward Plumbing has the tools and resources to get it done professionally, efficiently, and cost-effectively. Our plumbers in Boca Raton, Fl, are licensed, bonded, and insured for your peace of mind, ensuring they fix it right the first time! Keep your plumbing in top shape and avoid calling for emergency plumbers near Boca Raton with regular plumbing maintenance.
Frequency of Plumbing Maintenance Service
Most plumbing professionals agree on annual plumbing service and inspection for problem-free plumbing. At most, your home should not go without plumbing service maintenance for more than two years. The plumbing system is extensive, and regular plumbing service and inspections help prevent leaks, water damage, costly repairs, and middle-of-the-night emergency plumbing calls in Boca Raton.
Situations that May Need Frequent Plumbing Maintenance
While we recommend annual plumbing maintenance, some cases may warrant more frequent servicing. These include:
Older Homes: If you live in an older home, your plumbing will be susceptible to problems. This is because old plumbing materials may have become obsolete, corroded, or damaged with time. The aging plumbing system can be prone to water leaks, pipe bursts, and consequential water damage. More frequent inspections can help spot issues early on to avoid expensive repairs and replacements.
Buying a New Home: Buying a new home also requires a thorough plumbing service and inspection of your potential home by an experienced plumber in Boca Raton, Fl. You can preferably hire a different plumbing company than your regular one to look into any overlooked elements.
Recurrent Plumbing Issues: If you face repeated plumbing problems like low water pressure, frequent clogging, slow drainage, or foul odours, you may need to schedule more frequent plumbing services and inspections.
What Do Plumbing Services in Boca Raton Include?
Professional plumbing service will include checking and servicing the entire plumbing system of your home.
An ideal service includes:
Pipe/Sewer Maintenance including Plumbing Camera Inspection
The plumber will inspect the drains and pipes using a robotic plumbing camera to check for hidden leaks, cracks, and clogs. This can help locate and treat potential plumbing issues before they can cause damage. Any corroded or damaged pipes will need to be replaced. The plumber will also check the sewage system for proper drainage of sewage to prevent the risk of backups and clogs.
Bathroom Pipe Repair
A professional will thoroughly check the plumbing in your bathrooms to ensure it is in perfect working order. This includes sinks, showers, and toilets. Regular servicing of the toilet will prevent unpleasant toilet clogs and leaky or running toilets.
Water Heater Repair
The hot water heater will be checked for sediment buildup and leaks. A technician will also check the pressure relief valve and pipes and flush the tank.
Fixtures Installation
Plumbing service will also include inspection and checking fixtures like faucets and showerheads. This will prevent leaky faucets due to corroded valves, defective washers, or mineral deposits.
Your Plumbers Near Boca Raton Enable Convenience
Timely inspections and service can avert significant plumbing issues that can be costly and damaging. Finding a trustworthy plumber in Boca Raton, Fl, is easy with Broward Plumbing. Our experienced crew is known for quality plumbing services, including emergency plumbing in Boca Raton. If your home plumbing service is overdue, just contact us to book a maintenance service today!