How Pipe Repair Can Stop Plumbing Emergencies
Posted in Pipe Repair, on September 07, 2023
---
Virtually any emergency that requires an urgent visit from a plumber in Boca Raton is a property owner's worst nightmare. Whether it's expensive leaks, unexpected burst pipes, or stubborn clogged drains, these disruptions can be costly, frustrating, and disruptive to both residential and commercial property owners. If you've recently been the victim of a plumbing emergency, Broward Plumbing can help you mitigate damage and enable early detection with trenchless pipe repair services, declogging, and more.
Read on to learn how you can put an end to emergencies with pipe repair and maintenance services in Boca Raton and Broward County with Broward Plumbing.
Descale Pipes with Hydro Jetting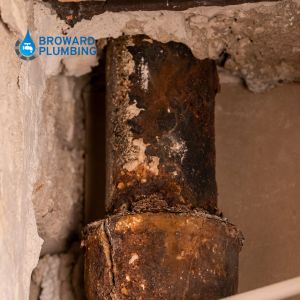 Over time, the hard water in South Florida and minerals that flow through plumbing systems can accumulate on the perimeter of your pipes, causing blockages that slow the flow of water or eventually stop water from flowing entirely. Scale and mineral buildup is important to address early as it can accelerate problems within the plumbing system, leading to cracks and backups. If you notice a change in the speed at which your water drains, contact our plumbers in Boca Raton and Broward County. With hydro jetting services, we can carefully flush pipes to remove any mineral buildup that threatens the health of your plumbing system.
Repair Fractured Cast Iron Pipes
Cast iron pipe repair is a common need for property owners in South Florida and Broward County in particular. After years of use and exposure to elements, minerals, and other contaminants in the plumbing system, many people find themselves in need of cast iron pipe repair in Boca Raton, Fort Lauderdale, and the nearby areas. Before cast iron pipes become completely damaged, they may show signs of wear and degradation, including leaks, rust deposits, or slow drains. With a professional cast iron pipe inspection, our team of plumbers near you will assess the condition of your cast iron plumbing fixtures to determine if they can be salvaged. Based on our assessment, our plumbers in Boca Raton will either hydro jet the pipes to flush out minerals or suggest PVC pipe installation to avoid pipe failure with a more durable alternative that increases your property value.
Benefits of Trenchless Pipe Repair
Sewer lines are commonly affected by extreme weather conditions experienced in Broward County. Whether it's heavy rainstorms or a tree root growing into your plumbing system, there are many problems that can trigger sewage backup. Trenchless sewer line repair is a smart and effective solution to sewer interferences, preventing harmful blockages and future water damage. When you notice the signs of a sewage backup from bubbling drains, sewage odors, or water damage around drains, then contact our plumbers for minimally invasive trenchless pipe repair.
Prevent Serious Damage with Our Plumbers in Boca Raton
From high-quality PVC pipe installation, effective hydro jetting services, and leading 360º camera inspections, our team of experienced plumbers serving Boca Raton will offer the highest level of service using the best quality materials available to solve your plumbing troubles quickly.
Get started with our team.