How to Address the Buildup in Your Pipes
Posted in Pipe Repair, on July 04, 2023
---
You may see buildup in and around faucets and drains in your home. Boca Raton's water supply is hard water, which contains many minerals. This factor often leaves you cleaning your sinks and clogging your pipes. To alleviate this burden, plumbing companies can help. Broward Plumbing can help clean and replace plumbing systems or be on-site for emergency plumbing services. Call our plumbers in Boca Raton for any of your plumbing needs.
Read below to learn how to address buildup in your pipes.
What Causes Buildup?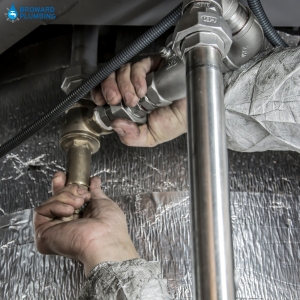 The leading cause of water buildup is hard water. Calcium and magnesium are common minerals found in Boca Raton municipal water. Over time, these minerals can build up in the pipes. If not treated properly, build up can cause corrosion or leaks in the pipes. The buildup is prominent in cast iron pipes, so if you have cast iron in your plumbing system, you most likely experience hard water damage.
Ways to detect there is a buildup in your pipes are to look for these indicators:
Reduced water flow
Higher water bills
Faulty water temperature
How to get rid of it?
If you are aware of buildup in your pipes, it's crucial to handle it promptly. There are ways to fix it yourself; however, these fixes are only temporary.
Vinegar: Calcium can be broken down with acids. A common remedy is pouring vinegar into the drain. The downfall of this method is that vinegar can damage your plumbing. Vinegar would also have to sit in the pipes for 24 hours in order to clear all your pipes from buildup, stopping all water supply to the house.
Pipe cleaner: Another method is a pipe or drains cleaner. CLR or Drano can help, however, only temporarily. With these chemicals, you essentially deposit dangerous chemicals into your water supply that can leave traces of toxins in your drinking water.
Pipe replacement: If you have cast iron or polybutylene pipes, it may be time to replace them. There are better choices for your plumbing systems than these two, as both have many disadvantages. If there is a buildup in your pipes, it's best to replace them all together to eliminate the root cause of the buildup.
Contact a plumber in Boca Raton with Broward Plumbing to figure out what your best option is. We will advise you on what is best for you, your plumbing system, and your bank.
How to Prevent it?
If you are not experiencing severe issues with your plumbing system in terms of buildup, it may still be a good idea to take preventive measures so you don't run into those problems in the future. The function of a water softener is in the name. It works as a filtering system where the minerals are extracted from the hard water, supplying the house with soft water. This relieves your pipes of mineral buildup, lengthening the lifespan of your plumbing system.
The best solution to no mineral buildup in your pipes is to switch to PVC pipes. These are recommended as they are corrosion-resistant, leak-free, chemical-resistant and lower cost. The installation process is very short, and the longevity of this plumbing system is much longer.
Broward Plumbing for Pipe Cleaning
Broward Plumbing has been providing all plumbing services to clients in and around Boca Raton, with customer satisfaction being our top priority. We will get your plumbing system in the best shape possible to have your home up and running again.