How to Deal with Chemical Reactions from Poly-B Pipes
Posted in Pipe Repair, on July 16, 2023
---
Many houses in Boynton Beach were built in the mid-70s to 80 during a time when polybutylene pipes were very popular during that time, as they were shown to be better than copper pipes. If your house was made during these times, it's most likely your home is functioning with polybutylene pipes, but not for long. Polybutylene pipes have since shown that they are unreliable for several reasons, their reaction to chemicals being one of them. The creation of leaks and breakage is ubiquitous in this material. Call the plumbers in Boynton Beach at Broward Plumbing when you need polybutylene pipe repair. Our professionals provide the best services to get your home functioning perfectly.
Read more to learn about chemical reactions from polybutylene pipes.
What Chemicals Are Present in Polybutylene Pipes?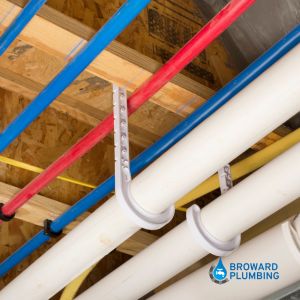 Even though you may not be a scientist, know that some chemicals come from Boynton Beach municipal water. The main ones are chlorine and fluoride. If you have polybutylene pipes and have not experienced any complications with your plumbing, switch them out before it's too late. These chemicals slowly degrade polybutylene over time until you have cracks and faulty pipes. This reaction either causes small cracks anywhere along the pipes or causes the pipe wall to flake, weakening the pipe's integrity, requiring polybutylene pipe repair and replacement.
What To Do When a Chemical Reaction Occurs?
Once you detect a chemical reaction in your pipes, the most important thing to do first is turn off your water supply. This will save any mess from happening. Calling a professional to inspect the situation is a good idea to eliminate further risk of damage. They will then find the root of the problem and the chances of any other problems as well. The issue with polybutylene pipes is that they cannot be repaired, only replaced. If you are not looking to restore the whole plumbing system, you can simply replace the faulty or broken segment. Fittings that connect pipes can also be replaced with a more durable material to prevent leaks from rooting them. When the rectification is complete, don't forget to clean up the wet mess because if there is residue, you can risk the chance of growing mold.
How To Prevent a Broken Plumbing System?
The best solution to a chemical reaction in your pipes is to replace the whole plumbing system so it doesn't happen again. Switch to PVC pipes to avoid plumbing problems, as it is more durable and resistant to chemicals and corrosion. Changing out your plumbing system can also increase the likelihood of selling your house when you are ready. People are less inclined to buy a home with polybutylene pipes because it has been proven repeatedly that they always result in breaking.
Get Professional Polybutylene Pipe Repair with Broward Plumbing
If you have concerns about your plumbing systems, don't hesitate to contact Broward Plumbing. Our technicians have the expertise to ensure your home is up and running all year long, with minimal maintenance requirements.