How To Handle A Sewage Backup In Your Home
Posted in Sewer Line Repair, on March 18, 2021
---
As a homeowner, nothing can be more distressing than the unpleasant surprise of a sewage backup! It can be caused by a variety of reasons—clogged drains, pipe buildup, tree-root infiltration, or improper flushing of items that should not be flushed down your toilet/drain. If you find yourself facing an unfortunate sewage backup, don't panic! Skip the search online for a 'plumber near me' and just speed-dial a trustworthy plumbing company like Broward Plumbing. Our plumbers in Boca Raton and Plumbers in Fort Lauderdale are available 24 hours a day, 7 days a week to clear & fix the mess. You must never try to clean up a sewage backup yourself as it can be a potential health hazard. Sewage not only contains disease-causing bacteria and other pathogens, but it also emits dangerous gases that can be severely toxic.
Trust a Professional Plumbing Company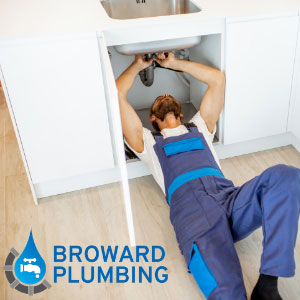 A sewage backup must be treated by an experienced professional who can do a quick and thorough repair job. While you're waiting for the emergency plumber to arrive, you can take the following steps to mitigate the damage:
Wear personal protective gear like boots and a facemask if you need to walk across the sewage water.
Shut off the main water supply.
Turn off the electric supply in the affected area; water & electricity is a dangerous combination!
Meanwhile, do not use your toilets to prevent any toilet overflows and further backups.
Open the windows and doors to ventilate the affected area.
You can add some chlorine bleach to the water to help disinfect it.
Do not try DIY solutions with chemicals to unclog the drain as the acids may cause further damage to the pipes and sewer lines.
Keep the elderly, children, & pets away from the affected area.
Inform your local sewage department.
Please remember that a sewage backup is an emergency, and it should be dealt with immediately by trained experts. A professional plumber will have the necessary experience and equipment like drain cameras to carry out a sewer camera inspection for a quick and effective solution. Finding the cause of your sewage backup is not easy—traditional plumbing methods like digging or drain-snaking can be time-consuming. They can also cause unnecessary damage. Professional plumbing companies have advanced technology to handle your sewage problems. If the cause for the sewage backup is not apparent, the plumber will use a sewer camera inspection to diagnose the real issue. This involves lowering a fibre-optic camera down the sewer lines using flexible metal cables. With real-time imaging feedback, the plumbers can quickly locate the obstruction and clear out the clog. They can also suggest pipe repairs or replacements as required.
The Last word: Avoid future problems with your sewage system with regular plumbing inspections, including an annual sewer camera inspection to rule out potential plumbing emergencies.
The Top Sewer Backup Repair Plumbers Near You
Our licensed and trained professionals will quickly get to the bottom of your sewage backup woes and take necessary remedial action. We do a thorough job complete with an environmental inspection to ensure that your family and home are protected from associated sewage threats. Trust the Broward expertise—decades of experience, fair prices, and a professional workmanship guarantee. Our technicians are on call 24 X 7 for all routine jobs and plumbing emergencies, so contact us today!
Call us on 561-570-7777 or 954-516-7777 today!