How to Know if Clogged Drains Require a Plumber in Boca Raton
Posted in Drain Cleaning , on February 08, 2023
---
The first signs of a clogged drain might prompt you to try a plunger or wait for the clog to clear itself. Unfortunately, blockages tend to accumulate and often eventually require a professional plumber in Boca Raton to undertake hydro jet drain cleaning or snaking. When your clogs have gone too far or are located deep within your drain system, you'll need to contact the professionals for drain cleaning services near Boca Raton. Contact Broward Plumbing for expert hydro jetting in Broward County.
Read on to find out whether your clogged drain needs an emergency plumber in Boca Raton or Broward County to help get your plumbing in order.
Signs of Clogged Drains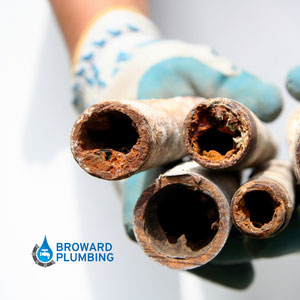 Several signs indicate clogged drains that require cleaning. The most common signs include:
Slow draining water
Unpleasant odors from drains
Gurgling/bubbling sounds during drainage
Overflowing toilets or sinks
Backed up or standing water in the shower/bathtub
Multiple clogged fixtures at once
Water appearing in unexpected places
Mold or mildew growth near drains.
Multiple drain clogging or water backing up in your sink, shower, or toilet could indicate an obstruction in the main sewer line requiring the expertise of a professional plumber in Boca Raton. Regular hydro jet drain cleaning can prevent debris buildup and keep your plumbing functioning smoothly.
Causes of Drain Clogs
Clogged drains can be caused by:
Hair, dental floss, & soap scum buildup: Hair, soap buildup, dental floss, and other stringy materials can trap debris to form a blockage in the pipes.
Food waste: If you're throwing food down the drain, the food particles can accumulate in the pipes and create clogs over time. Food waste can still get into your pipelines even if you have a garbage disposal. Avoid throwing eggshells, tea leaves, coffee grounds, and other hard materials like bones in the disposal as they are hard to break down.
Fats & oils: This is obvious–greasy substances can solidify in your drains to cause nasty clogs and back-ups.
Tree roots: Tree roots can grow into pipes and cause blockages. This is more common in older homes with damaged or cracked pipes.
Flushing paper products: Flushing wet wipes, sanitary napkins, and paper towels is a big no! Only flush septic-safe toilet paper in the toilet.
Calcium & mineral buildup: Over time, minerals like calcium and magnesium can deposit in pipes. This reduces the water flow and causes clogs.
Aging pipes: Old pipes are prone to corrosion and breaks that can lead to drain blocks & unwanted clogs.
When a clog is left unresolved for a long time, it can overflow with hazardous raw sewage backing up into your home. This can also cause mold growth and extensive water damage.
Hydro Jet Drain Cleaning Services from Broward Plumbing
Clogged drains can be an incredibly frustrating and messy experience. Avoid the dangers of prolonged clogs by opting for non-invasive hydro jet sewer drain cleaning from Broward Plumbing. This technique uses cutting-edge equipment to send high-pressure water streams to clear clogs and other buildups in the system. It is safe and effective for various types of pipes, including PVC, copper, and cast iron. Hydro jet cleaning also eliminates odors and minimizes the risks of sewage back-ups & new clogs.
Trust the professionals at Broward Plumbing for fast, reliable, and quality plumbing services in Boca Raton, Fort Lauderdale, and the entire Browrd County area, all at transparent budget-friendly prices. Our expert plumbers in Boca Raton can quickly diagnose plumbing issues and determine the best course of action to resolve your clogged drains. Don't let drain clogs disrupt your plumbing––Call us now!