How to Know if There is Rust in Your Water
Posted in Pipe Repair, on May 01, 2023
---
One of the things we value most is clean and safe drinking water. It is easy for you to become seriously alarmed if you feel your home water supply has been compromised. When living in a locality with cast iron pipes within properties, you may notice discoloration or a change in the taste of the water over time, which can be from rust due to the need for a cast iron pipe repair. Broward Plumbing has over twenty years of experience and is well-versed on all issues surrounding cast iron pipes; our team can provide you with a reliable licensed plumber in Boynton Beach to resolve issues surrounding rust and your plumbing infrastructure.
Read on to learn about rust in your water and explore different sources.
Signs of Rust in Your Water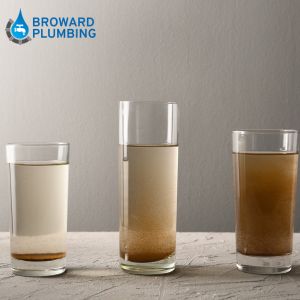 Rust can be discovered in water through color change or a change in taste. Water that contains rust will have a slight reddish-brownish color to it. It will also begin to make your white laundry come out with a brownish tone after washing.
Another indicator is the metallic taste in your water; this can often indicate rust is present. The good news is rust in your water is not particularly dangerous, except for those with hemochromatosis. Still, you will need to diagnose the source of rust in your water and if you need the help of a professional plumber in Boynton Beach.
Rust Leading to Cast Iron Pipe Repair
An easy trick to help identify where the rust is coming from is to pour cold water into a cup immediately after turning on the tap; take note if you see the reddish-brown color. If you do, run the water for a long time; note if the reddish-brown color is still present. Repeat the process again with hot water. If the reddish brown color only occurs in the hot water, it helps indicate the rust in the hot water heater.
If the reddish-brown color is still there after running the cold water tap for an extended period, then it could indicate that the rust is coming from your public water supply. You should call your local water authority.
If the rust color disappears when the cold water tap has been running for some time, it indicates the issue is likely within a pipe in your home. This can especially be true in older properties that were built with cast iron pipes. These pipes are known to corrode over time, develop rust inside the pipes which result in the need for cast iron pipe repair.
Broward Plumbing for Cast Iron Repair
Broward Plumbing delivers over 20 years of experience to the community. Offering fully licensed and insured plumbers to the Boynton Beach area. If you fear you have rust in your water, don't hesitate to contact us to investigate. Our team can help diagnose and repair water heaters, cast iron pipes, and any other plumbing issues you may have. With our experience, skills and advanced equipment we will be able to effectively remedy any of your plumbing concerns.