How To Prevent Your Garbage Disposal From Clogging
Posted in General Plumbing Services, on January 28, 2022
---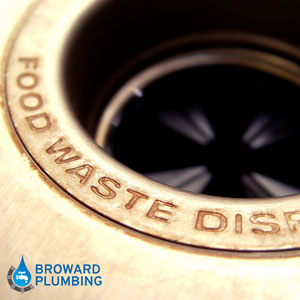 Plumbers near Boca Raton are often called for repeat and frequent damage to garbage disposals in Broward County. Frustrated with multiple calls to emergency plumbers near Boca Raton to fix your disposal unit? Well, you're not alone. Garbage disposals are nifty appliances that make our lives super convenient. We can simply throw food scraps and leftovers in the garbage disposal while doing the dishes. Though this small appliance grinds down most of the food waste, it is a machine. It can get clogged, stuck, or damaged, with no option but to call a reliable plumbing company to rectify the problem. The certified plumbing experts at Broward Plumbing share how you can prevent clogs and ensure the smooth functioning of your garbage disposal.
Garbage Disposals Are Only for Food
Unfortunately, many people end up throwing paper, plastic, and other such trash into the disposer. Most of us think garbage disposals chops up the scraps like a blender. However, the disposal actually grinds down the waste. Its impeller has blades and a grind ring that grinds down food leftovers. So when we throw plastic wrappers and other hard trash in the disposal, it may clog or get damaged.
What To Avoid
Plastic, metal, and hard food items like fruit pits and bones should not be thrown in the disposer. These can get stuck in the propeller and jam the unit, requiring emergency plumbing service to fix it. Thumb rule? Don't throw it in the disposer if you can't chew it!
Food Items That Are Bad News For Your Garbage Disposal
Some food items can pass through your garbage disposal but can cause damage in the long run. They can clog your plumbing with rotting food and even break your disposer. The lousy food list includes:
Starchy foods like rice, pasta & noodles expand in water and tend to clog the kitchen sink drain. Avoid throwing these in the disposal.
Fats, grease, and cooking oils should be safely disposed of in the trash can. These items can stick to the pipes to form a thick, greasy layer that can cause obstructions.
Eggshells can also jam the disposal or get lodged in the impeller, making it hard to flush it down.
While coffee grounds can pass through the disposal, they can clump together to form a sludge that can lead to clogs.
The Garbage Disposal Checklist:
Do not feed too much waste into the disposal in one go. Cut it up into smaller chunks and only put a few pieces at a time. Big chunks of food can overwhelm your disposal and even damage it entirely!
Never pour grease or oil down the sink drain.
Check that the rubber gasket is not worn out or cracked.
Always run it with water-adhere to a 3:1 water to scrap ratio.
Clean your garbage disposal weekly; use a bottle brush and any kitchen cleaning solution to scrub inside.
Superior Plumbing Services In Boca Raton & Broward County
Regular care and maintenance will help prevent problems, but it doesn't guarantee a functioning garbage disposal. Do not attempt DIY solutions if your disposer is giving trouble; call a professional plumbing company you can trust. Broward Plumbing is synonymous with plumbing excellence, fair prices, and superior service. Our licensed plumbers are fast, reliable, and available 24/7 for your convenience. Contact us for all our routine or emergency plumbing service needs today!