Handling Plumbing Leak Repairs in Fort Lauderdale
Posted in Emergency Plumbing Services, on October 25, 2019
---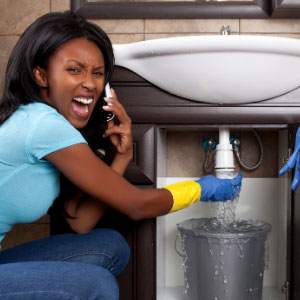 A leak that is left unrepaired can not only lead to a big water increase on your utility bill; it can eventually turn into fundamental damage of your home or business. For specialized emergency plumbing leak repair in Fort Lauderdale, connect with our skilled team at Broward Plumbing. All of our technicians have a great amount of experience in plumbing leak detection, and repair service on pipes, walls, floors and more.
Emergency Plumbing Leaks in Fort Lauderdale
Our plumbers in Fort Lauderdale focus on all sorts of plumbing leak repairs for residential, commercial and/or industrial properties in Fort Lauderdale, including:
Sewer leaks
Pipe leaks
Slab leaks
Landscaping leaks
Water main leaks
Underground leaks
When we are called for a plumbing leak repair in Fort Lauderdale, we will come on the day of your call and our on site specialist, will locate the source of the leak quickly, and repair it on the spot. In addition, we guarantee we will find the leak without causing any structural damage to your property. Our plumbers use the most specific and up to date technology and equipment, that is less intrusive, efficient and precise, to locate the source of your leak. We have experience with all types of leaks and we always carry the appropriate tools to repair the leak on the spot. Additionally, our plumbers hold all of the appropriate Florida state certifications and licensing, and are highly experienced with any issue of a plumbing leak repair in Fort Lauderdale.
After a Broward plumbing technician locates the cause of the leak, he or she, will offer you practical pricing for the work that would be required to fix the leak. We do this prior to the repair, to let our clients know all the options available for the scope of the work, so you can feel well informed and confident in your final decision. Our team always has our client's best interests at top of mind with regards to plumbing leak repairs in Fort Lauderdale.
What is the most frequently asked question about leak repair we receive from clients?
Q. How do I know that there is a leak in my house?
A. If you are suspicious that you have a leak someplace in your home, we recommend firstly to wait until everyone in your family is going to sleep, then go outside and check your water meter and jot down what the current water level is at. Then, when you get up in the morning, you should go back outside to check the meter water levels, if it has changed, it sounds like you have a leak. At this point we recommend connecting with our staff at Broward plumbing, and we will visit your home on the same day of your call.
WATER WASTE IS A BIG ISSUE IN THE UNITED STATES
There is a great deal of research that shows that the United States consumes the highest of water usage globally. One of the main reasons for residential or commercial water waste is due to a hidden leak in progress. Our Broward plumbing technicians have experience with complicated plumbing systems, in order to handle any and all of your plumbing leak needs. At Broward plumbing our goal(s) is to cut down your utility bill costs, while we stop the newly discovered leak or leaks in its tracks, before they cause more waste and structural damage for you and for our shared environment.
Top 3 reasons to complete a thorough plumbing leak repair in your Fort Lauderdale home
1. Floor damage
Immobile water is organically pulled down into the foundation and floors of a residential or commercial property. If the aggravating leak is left untreated and unrepaired, it will naturally infiltrate through your tiles, floorboards, slabs and a lot more.
2. Mold
Both mold and mildew tend to collect and grow in both warm and damp places. If you have a hidden leak, your property will become more vulnerable to mold and mildew, which will threaten not only your home or business, it can create bigger problems with your overall health.
3. Wall damage
A lot of residential and commercial plumbing tends to inhabit within the walls of the building itself; an invisible leak can cause widespread destruction to the walls from the inside. This damage will form cracks in the walls and will weaken the foundation, which can cause even more damage, the longer the leak is left unrepaired.
Why choose Broward plumbing to repair plumbing leaks in Fort Lauderdale
At Broward plumbing we hire the best and most experienced technicians in the plumbing industry with regards to plumbing leak repairs in Fort Lauderdale. Leaks that are left untreated will not only generate a large surplus of wasteful water, unrepaired leaks can also highly reduce your water pressure throughout your whole property. If the leak or leaks are left undetected and/or unrepaired it will cause severe fundamental damage to your small business or home.
Using only the most up to date technology that is available in the current plumbing industry, our plumbing technicians will locate the leaks and damage, whether it is under your floor or behind your walls. Additionally, all of our plumbers are extremely trained and highly certified in providing the best solutions to fix any sewer line leaks in your neighborhood. If you are skeptical of water leaks or water damage on your property, contact us as soon as possible at 954.516.7777. We are available Monday-Sunday, 24 hours a day, to reply and repair whatever plumbing emergency you may be confronting.
We are proud to serve all of Broward County with plumbers in Boca Raton, Fort Lauderdale, Boynton Beach, Coral Springs Parkland, Plantation, Delray Beach, Deerfield, Weston, South West Ranches, West Palm Beach, Hallandale, Hollywood, Boynton Beach, and Pompano Beach. We work very hard to guarantee that you and your family (our valued clients) obtain both reliable and efficient plumbing leak services.
To schedule a plumbing leak repair in Fort Lauderdale with Broward plumbing or to reach us for an emergency plumbing service call, contact us now at 954.516.7777 or fill our online form here.