What to Do About Plumbing Problem in Boca Raton
Posted in General Plumbing Services, on May 13, 2021
---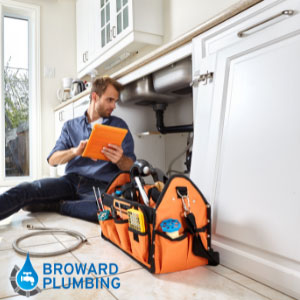 Plumbing problems can wreak havoc on your everyday life. An unexpected issue in the middle of the night can leave you wading through water or dealing with a sewage backup or rushing to the computer to search for a plumber near you. With the help of a plumber in Boca Raton you can fix even the most extensive plumbing issues in no time. When it comes to Boca Raton plumbing services, look no further than the expert technicians at Broward Plumbing. No matter the issue, we can help you solve your plumbing problem and keep your family happy and healthy. Here are some of the common plumbing issues facing homeowners in Broward County and how we can help to fix them.
Common Plumbing Problems In Boca Raton
Some of the common issues affecting Boca Raton plumbing include a broken or inefficient water heater, blocked shower and sink drains, and clogged toilets. Less common problems that are still a significant issue include sudden flooding, a sewage backup, or a water leak from an unknown source. A general or emergency plumber in Boca Raton, Florida, can help unclog your drain or toilet, identify and repair leaks, and restore water heat depending on your issue.
Who To Call In Boca Raton When You Have A Plumbing Issue
When it comes to a Boca Raton plumbing issue, many homeowners try to fix the problem themselves. Although it may seem like a good idea to try a DIY home fix, this can end up costing more money down the line. Often home fixes are only temporary solutions, and sometimes they exacerbate the problem, requiring an even more expensive fix within days, weeks, or months. We always recommend hiring a professional plumber in Boca Raton, Florida, to help you fix any plumbing issue. You can trust the experienced team at Broward Plumbing to efficiently fix your plumbing issue. A professional technician at Broward Plumbing will help you fix the problem the first time.
Broward Plumbing Services
If you are looking for a plumber in Boca Raton, Florida, Broward Plumbing offers a wide range of plumbing services. Our expert technicians can assist with drain cleaning and repair, clogged toilets and drains, leaky faucets and showerheads, installing toilets, sinks, showers, and more. We also offer emergency services for sewage backup, water heater repair, and pipe repairs. Our comprehensive list of services is available on our website. Whether you are looking for an inspection and preventative plumbing services or need help responding to an emergency, the technicians at Broward Plumbing can assist with any Boca Raton plumbing problems.
Call Our Expert Plumbers in Boca Raton Today
The certified team of plumbers in Fort Lauderdale, Boca Raton, and the surrounding Broward County employed at Broward Plumbing can help you fix everything from major to minor plumbing issues in the Broward County, Florida area. With state-of-the-art tools and years of experience, our team can help quickly identify the source of your plumbing issues and repair it in no time. If you need a plumber in Boca Raton, Florida, you can contact us online or reach out to the Broward Plumbing team via our emergency line at 954-516-7777 which is available 24/7.
Save On Your Next Plumbing Service With Broward Plumbing!