Plumbing Tips to Reduce Wasted Water
Posted in Water Leak Detection, on January 13, 2023
---
Did you know that around 10% of American homes waste almost 90 gallons of water per day? Leaks, inefficient fixtures, and improper usage are the usual culprits behind this staggering water waste. Not only does this waste valuable resources, but it also increases water costs. It can even lead to mold and other property damage that may require the services of a competent plumber in Fort Lauderdale. Stagnant water from leaky pipes can also attract disease-causing pests like mosquitoes. Fortunately, Broward Plumbing's simple plumbing tips can help reduce water waste in your home.
If you suspect there is water being wasted through your plumbing infrastructure, contact our team of expert plumbers near Fort Lauderdale and Broward County for reliable water leak detection and emergency plumbing services.
1. Regularly Check for Toilet or Sink Leaks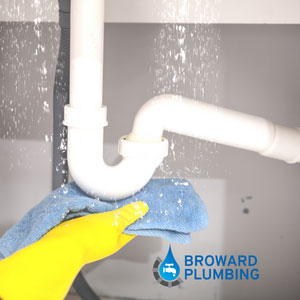 A leaky toilet or sink is one of the most common causes of water wastage in homes. While the noise of a running toilet is easy to detect, other toilet leaks can be stealthily silent. Check for leaks by adding bright food coloring in your toilet tank and waiting a few minutes. If the food coloring shows up in your toilet bowl without flushing, then you have a toilet leak that's wasting water and costing you money.
Similarly, you can check for sink leaks by running water in the sink and then looking under the sink for any drips or leaks. Repairing home leaks not only reduces energy & water waste but can also save you around 10% on water bills.
2. Replace Old Pipes
Another common cause of water wastage is old or corroded pipes. Over time, pipes can inevitably wear out and develop leaks leading to significant water waste. Corroded pipes can cause leaks, reduced water pressure, and other issues that can ultimately cause costly damage to your home or business. If you suspect that your pipes are corroded or otherwise compromised, it may be time to consider replacing them. You can enjoy improved water flow and a greater sense of security with new pipes, knowing that your plumbing is less likely to cause problems in the future. Contact Broward Plumbing for an expert plumber in Fort Lauderdale that can help upgrade your plumbing system to ensure it's functioning at its best.
3. Repair or Upgrade the Water Heater
Water heaters can also be a significant source of water wastage. Repairing or upgrading your water heater can save you money on water bills and improve the overall efficiency of your hot water system. If your water heater is acting up or there's a leak in the tank, have it checked by a professional plumber near Fort Lauderdale. And if your water heater's more than ten years old, it may be time for an upgrade. Modern water heaters come with insulated tanks, high-efficiency burners, and digital thermostats that help to reduce energy consumption. Tankless water heaters are another great option to conserve water as they provide hot water on demand—without needing a large storage tank. Investing in a water heater upgrade comes with the benefit of improved energy efficiency, reduced water waste, and a reliable hot water supply. Don't miss out!
4. Water Leak Detection & Camera Inspections
One of the best ways to reduce water waste is to detect and repair leaks as soon as possible. Hire a professional plumber in Fort Lauderdale to perform water leak detection & camera inspections. Using cutting-edge plumbing technology, a plumber can quickly locate and repair pesky leaks.
Reduce Water Waste with Broward Plumbing
Water wastage is a concern for homeowners and the environment. Be a water warrior and conserve water by following the above plumbing tips. Detect and fix those leaks to save money and help protect the environment. If you need a reliable plumber in Fort Lauderdale, simply call Broward Plumbing. Homeowners across Broward County trust us for quality work backed by exceptional customer service and work warranties.
Connect with us to to book your plumbing service today!