How to Prevent a Sewage Backup with Plumbers Near You
Posted in Sewer Line Repair, on May 30, 2022
---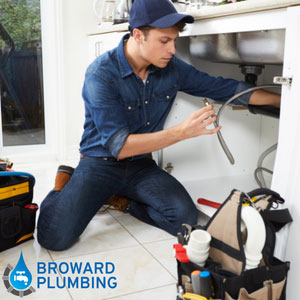 Plumbing issues can be a big inconvenience. No one likes to deal with plumbing problems. Many people try to fix their own plumbing issues, but for some people, it can be very difficult without the right knowledge and tools. This is why it is a good idea to call a professional emergency plumbing company in Fort Lauderdale to help.
A sewage backup not only makes your entire home smell horrible but can also cause major problems such as mold, mildew and ruined floors, walls and ceilings.
What Are Sewage Back Ups
​​Sewage backups are among the most dangerous and smelliest types of home plumbing problems you'll ever have to deal with. Clogged pipes can overflow, spreading a mixture of water, feces and other liquid and solid waste through your floors and beyond.
Sewage backups often originate with blocked drains. When a bowl or sink fills with water, it creates a seal that prevents the passage of waste and air into the pipes. Because the pipes aren't being flushed regularly, waste material can build up on the insides of the pipes. As these pipes fill up with waste and decompose, you'll find yourself facing a sewage backup.
Sewage backups can also originate inside sewer pipes, which are created when gravity pulls waste downward toward a local treatment facility and out to the ocean. If tree roots break through your sewer line, the pipe can become clogged and wastewater can start to back up into your home. Sewage backups caused by broken sewer lines are largely a problem in older buildings, as new, PVC-pipe sewer systems have largely replaced older clay-pipe lines.
The number 1 way to prevent sewer backups, is by letting a plumber in Fort Lauderdale do an inspection of your sewer system each year when they do the annual inspection of your water lines.
Sewage Backups in Fort Lauderdale
If you have ever had the misfortune of dealing with a plumbing malfunction in your home, you know just how frustrating it can be. In the event that there is a sewage backup, you immediately have to start dealing with the mess and call one of the many plumbing companies in Fort Lauderdale to tackle the problem as soon as possible.
6 Sewer Backup Prevention Tips
Below are some steps you can take to prevent sewage backups from happening in your home.
Be careful what you flush down the toilet – only human waste and toilet paper should go down the drain.
Use strainers in your sinks and tubs to catch hair and other debris before it has a chance to clog the pipes.
Inspect your plumbing regularly for leaks or cracks, and have them repaired as soon as possible.
Avoid planting trees or shrubs too close to your sewer line – their roots could eventually cause problems.
Have your sewer system inspected by a professional plumber every year, so potential issues can be caught early on. 6. If you do experience a sewage backup, call a professional immediately to clean up the mess and repair any damage caused by the backed-up sewage
Invest in a sump pump. These pumps are specifically designed to get rid of excess water, and will usually prevent damage from occurring. You'll want to put your sump pump somewhere inside your home's lowest level, as this will ensure that it can drain water away as quickly and efficiently as possible.
Prompt Cleanup Minimizes The Effect of a Sewer Backup
Sewage backups are never fun. Not only are they smelly and inconvenient, but they can also cause serious damage to your home. If you do experience sewer backup, promptly calling a plumbing company in Fort Lauderdale like Broward Plumber to clean up the affected areas will help prevent further damage to your home. If you need sewage backup plumbing services in Fort Lauderdale, contact Broward Plumbing today!