Signs of Aging Sewer Lines in Boca Raton
Posted in Sewer Line Repair, on February 13, 2023
---
Sewer lines carry waste and sewage from our homes and businesses to the main sewer line for proper disposal. However, these pipes are under constant strain, working tirelessly to keep your plumbing safe and smooth. Aging sewer lines can endanger your property and your health. Whether you're a renter or homeowner, recognizing warning signs of sewer line deterioration and seeking professional plumbing services from a certified plumber in Boca Raton will help mitigate future problems and water damage. Contact the trusted Broward Plumbing team of plumbers in Boca Raton for trenchless sewer line repair.
Here are some signs to look out for if you suspect aging sewer line issues.
Age & Type of Pipes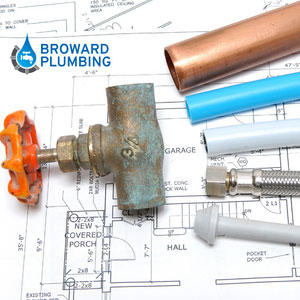 Knowing the age of your sewer lines and construction material can give you a fair idea of when you need trenchless sewer line repair or replacement. Polybutylene, cast iron, and PVC are the most commonly used pipe materials. While polybutylene is notorious for cracks and leaks, cast iron pipes are prone to rust and corrosion. Thankfully, PVC pipes pass the test of durability, corrosion resistance, and ease of installation. Cast iron pipes are known to last for up to 20 years, while PVC pipes can last for 40-70 years or more. Note that these are only estimates, and factors like water hardness can affect longevity. Consider sewer line replacement if your pipes are beyond their use-by date. At Broward Plumbing, our team specializes in polybutylene pipe replacement and cast iron pipe repair in Boca Raton, Fort Lauderdale, and elsewhere in Broward County.
Foul Odors
Strong and persistent odors in the home could be a warning sign of an aging and compromised sewer line. Pungent smells like that of rotten eggs indicate wastewater leaks or backups that can be hazardous to your health and property. Contact an expert plumber in Boca Raton for a drain camera inspection and sewer repair if you detect sewage odors inside the house.
Slow-Draining Pipes
Blockages or buildup in your sewer lines can cause slow drainage that can eventually cause nasty backups and leaks. If your home is experiencing slow-draining pipes, it may be time to call a plumbing professional to inspect the drainage system.
Recurring Backups & Blockages
Recurring drainage problems and regular backups in toilets, tubs, and sinks, all point to sewer line issues. While plumbing fixtures can clog occasionally, frequent backups signify sewage trouble. If your toilet backs up every time it's flushed, call the experts at Broward Plumbing to check your main sewer and connecting pipes.
Water Damage & Leaks
Look out for discoloration, wet spots, mold, and other signs of water-based damage in the house. Compromised sewer lines can be behind water damage to your walls, floors, and ceiling. If you're experiencing such issues, immediately contact a reliable plumbing professional to investigate your sewage system.
Sewer Line Repair in Boca Raton & Broward County
Understanding the signs of aging sewer lines is crucial in ensuring a timely and informed decision about its repair and maintenance. Take proactive action to get ahead of potential sewer line problems. Contact the trusted team at Broward plumbing for expert plumbers in Boca Raton. Our experienced technicians are pros in trenchless sewer line repair, re-piping, and all other plumbing requirements. We employ cutting-edge drain camera technology and trenchless repairs for a minimally invasive and cost-effective solution to all your sewer line issues. Say goodbye to disruptive and orthodox sewer repair methods and choose Broward Plumbing for a permanent and effective fix.