Signs of Leaking Pipes Behind Your Wall
Posted in Water Leak Detection, on July 19, 2023
---
Plumbers in Fort Lauderdale answer calls catered to all plumbing issues. A common request that can be seen is leaks, whether it is from the pipes themselves or from our appliances and faucets. It is crucial to tend to these damages hastily, as water damage can be extremely costly. If you live in a house that was built around the 1980s, there is a high chance you have polybutylene pipes, which are prone to malfunctioning. Call Broward Plumbing for polybutylene pipe repair or replacement to avoid treacherous pipe leaks.
Read on to explore signs that your pipes are leaking behind your walls.
Strange Odors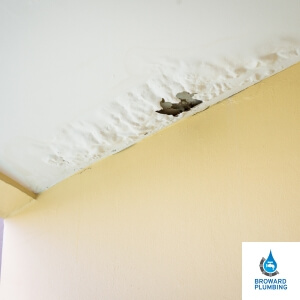 Detecting an unappealing scent is always a concerning indication. Peculiar odors can serve as a distinct clue that there is excessive moisture within your residence, requiring attention. If such an odor is concentrated in a specific room, it can aid in identifying the location of the leak. When a leakage transpires, the structural components absorb the moisture, emitting an aroma reminiscent of damp cardboard.
Mold Growth
We know that most mold species need moisture to grow, meaning that mold growth is a clear giveaway that there is unwanted moisture in your home. If you spot the mold on unusual surfaces such as baseboards or walls, this can tell you there are undetected water leaks. Mold found in bathrooms may not always indicate there are leaks, though it's always best to call a plumber in Fort Lauderdale to check.
Water Stains
Discoloration in ceilings, walls or floors can be a tell-tale sign of pipe leaks and the need for cast iron or polybutylene pipe repair. These stains grow rings that show that it has reoccurred multiple times after drying. These stains are typically brown or yellow, almost always accompanied by a musty odor. Once noticed, call a local plumber to help alleviate the damage.
Bubbled or Peeling Paint
Leakage from pipes can result in alterations in the texture of walls or floors, leading to the formation of cracks or lifting. These changes can cause the paint to bubble or peel off, which can be noticeable. When water enters the wall cavity, it can have a significant impact, causing the structure of the house to swell and resulting in warped walls and cracked paint.
Increased Water Bills
It's possible for leaks behind your walls to go unnoticed for months. If you observe an unexpectedly high monthly water bill, it's advisable to investigate the underlying cause. Taking prompt action in such cases can safeguard both the structural integrity of your home and your financial resources.
Water Leak Pipe Detection with Our Plumbers in Boca Raton
Catch the problem early. It's essential to perform routine checks to make sure your home is in tip-top shape, and if there is a problem, you can catch it early. Broward Plumbing provides excellent service to residents in and around Fort Lauderdale. Available 24/7 to meet any of your plumbing needs. Equipped with the latest technology and licensed plumbing professionals, we aim to provide the utmost satisfaction to our customers. Contact us now for emergency plumbing issues or for a free consultation.