Signs You Have a Plumbing Emergency in Boca Raton?
Posted in Emergency Plumbing Services, on December 02, 2022
---
Unexpected plumbing emergencies are a nuisance and can happen to anyone at any given moment. Recognizing the signs of a plumbing emergency is a great advantage, allowing you to prevent severe damage to your property or plumbing system. Plumbers in Boca Raton recommend taking preventative measures by scheduling plumbing inspections and repairs sooner than later to avoid large plumbing disasters. If you notice any signs of poor-performing plumbing, like drain clogging, drain cleaning services will help you steer clear of extensive damages like sewage backups.
When dealing with a plumbing emergency in Boca Raton, Fort Lauderdale, Tamarac, or anywhere in Broward County, the professionals at Broward Plumbing will effectively diagnose and repair any plumbing issues, mitigating significant plumbing emergencies and saving you money.
Continue reading to learn more about the signs of a plumbing emergency in Boca Raton.
Leaky Faucets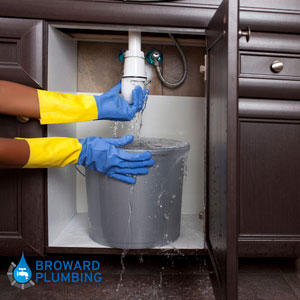 At first, if you notice that your faucet is dripping, you may think the problem is minor, or it will go away on its own. However, if your taps or shower are turned off, and your faucet continues to drip even small amounts of water, you likely need to contact a team of professional plumbers in Boca Raton. Not only will a dripping faucet cost you a considerable amount of money, but it could indicate a more serious problem, like cracked pipes or incorrectly installed plumbing components. A leaky faucet could mean a malfunction with the valve that controls the on/off setting on the taps or showerhead. If left unnoticed or untreated, it can cause serious damage to the plumbing system and a high water bill. For plumbing emergencies in Boca Raton, Fort Lauderdale, and surrounding areas, contact Broward Plumbing.
Poor Drainage
Do you notice that it's taking longer to drain your sink or shower? If so, you may have poor drainage issues. Clogging is common and can be fixed by plumbing professionals with cutting-edge technology and drain cleaning services - but if you wait too long to clear up the clogs, it could result in severe blockages in your drain. Broward Plumbing offers 24/7 emergency plumbing services in Boca Raton and surrounding areas, so you can fix the problem as soon as possible.
Lack of Hot Water
Most tanks have a maximum capacity and take time to heat up, so running out of water isn't uncommon in Broward County. Although, if you turn on the water for the first time and don't have sufficient heat, it could be a sign of a larger issue with your hot water heater. Signs you may need emergency water heater repair include rust-coloured water, low water pressure, and leaks around your hot water heater. A broken water heater is more than just an inconvenience that stops you from being able to comfortably take showers. Leaking and damaged water heaters are costly issues that can leave you with water damage and mold around your property. If you notice a problem with your water heater, don't hesitate to call the trusted plumbers in Boca Raton and all of Broward County, Broward Plumbing.
Low Water Pressure
When showering or doing dishes, the pressure of the water makes all the difference, so inadequate water pressure can make simple tasks much more challenging than needed.
In some cases, poor water pressure may be a symptom of a bigger problem like a pipe leak in the walls or a blocked faucet aerator, and if you continue to use the faucet, water can leak from the pipes and result in dreadful damage and high utility costs. To find the root of the problem, contact the emergency plumbers at Broward Plumbing.
24/7 Emergency Plumbiers Near Boca Raton
To ensure your residential or commercial property is free from water damage and low on water bills, it's imperative to contact an emergency plumber as soon as you notice any unfamiliar issues with your plumbing system.
Get to the bottom of your plumbing with the experts at Broward Plumbing.