Signs You Need to Inspect Your Polybutylene Pipes
Posted in Pipe Repair, on June 25, 2023
---
Your home's plumbing system is like the backbone of your home, working silently to keep it running smoothly. However, old polybutylene pipes in your home plumbing can create havoc! Polybutylene, or "poly pipes," were once popular for home plumbing as an economical and easy piping solution. Unfortunately, the plastic resin in the pipes reacted to chlorine and other disinfectants in the public water supply. Chemical reactions, leaky plumbing fittings, clogs, and pipe bursts are some issues that cause the need for polybutylene pipe repair. As a homeowner, it's wise to be proactive and aware of the warning signs that indicate a need for a professional pipe inspection by a trusted plumber in Boynton Beach.
Keep reading to learn the signs of trouble with polybutylene pipes and how timely inspection and polybutylene pipe repair can protect your home plumbing system.
Types of Polybutylene Pipe Problems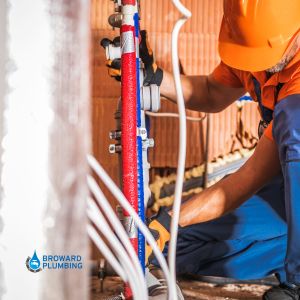 Chemical Reactions: Polybutylene pipes are susceptible to chemical reactions with chlorine and other common disinfectants in water. Over time, they can develop microfractures and leaks that can burst to cause extensive water damage. A professional plumber in Boynton Beach can help assess their integrity and need for polybutylene pipe repair or replacement.
Compromised Fittings & Connectors: Poly pipes were usually connected with plastic or metal fittings prone to leaks and failures. These fittings can deteriorate with time and cause water seepage and potential damage to your property.
Age & Wear: As they age, polybutylene pipes become more susceptible to cracks, breaks, and leaks. The material can become brittle and flake, especially in areas with high water pressure or temperature fluctuations. This can weaken and affect the entire plumbing system.
Signs You Need Poly-B Pipe Replacement
Water Discoloration: Brown, yellow, or rust-colored water from your taps could indicate corroded polybutylene pipes. The discoloration is a surefire sign of pipe deterioration, and immediate inspection is necessary to avoid further damage.
Low Water Pressure: Reduced water pressure throughout your home can point to leaks or blockages in the system.
Water Leaks: Leaking pipes and recurrent clogs indicate that your plumbing needs attention. Damp spots on walls, ceilings, or floors, or a sudden unexplained jump in your water bill, are signs you need to call a plumbing professional for polybutylene pipe inspection.
Hidden Leaks & Mold: The undetected leaks pose the gravest risk as seeping water can accumulate inside floors or walls to breed hazardous mold.
Replacing Polybutylene Pipes
All experienced home inspectors and plumbers in Boynton Beach recommend replacing old and worn polybutylene pipes at the earliest. Two popular reliable and durable alternatives include:
Copper Pipes: Copper pipes have been used in home plumbing systems for decades. Their corrosion resistance, durability, and excellent water flow make them a reliable choice for replacing polybutylene pipes.
PEX (Cross-linked Polyethylene) Pipes: PEX pipes are a more modern and cost-effective option. They are resistant to chemical reactions and are pretty flexible. This makes them easier to install and reduces the number of fittings required.
Protect Your Home with Broward Plumbing
Don't let polybutylene pipes compromise the safety of your home & plumbing. Contact Broward Plumbing, your go-to plumber in Boynton Beach, for expert inspection, polybutylene pipe repair, & replacement services. Our experienced team will assess your polybutylene pipes and recommend reliable solutions to ensure plumbing peace of mind. Trust our leading plumbers serving Boca Raton, Boynton Beach, Fort-Lauderdale and Broward County to safeguard your propert's plumbing—schedule your Broward Plumbing inspection today!