Signs You Need Water Heater Repair
Posted in Hot Water Heater Repairs , on October 25, 2022
---
Most of the time, it isn't until you need water heater repair that you even think about residential or commercial water heaters. But, when your hot water tank starts to break down or stops performing at its peak, the importance is undeniably apparent, resulting in swift calls to your local plumber in Fort Lauderdale. As its name suggests, the water heater is responsible for heating the water in your home, making everyday tasks more comfortable, such as washing dishes, taking showers, or doing laundry.
In many cases, your appliances will indicate they are in need of attention before they break down completely. Look out for the following signs to know if you need to call a plumber near Boca Raton and Broward County for water heater repair in Fort Lauderdale and the neraby areas.
Water Heater Wear & Tear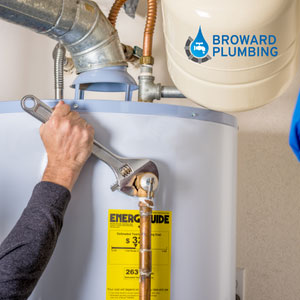 Typically, water heaters have an average life expectancy of 8-15 years, but it varies depending on the unit's design, the installation process, and the water quality. If your water heater is older than 10 years old, it's essential to schedule a plumbing inspection to see if a replacement is necessary. At Broward Plumbing, our team has decades of first-hand experience in water heater repairs, making us experts in knowing when a replacement is needed.
Dirty Water
If you turn your hot water taps on in your kitchen sink, bathroom, or shower and notice rusty or brown-colored water, it may be time to contact a plumber in Fort Lauderdale. Rust on the outside of your tank typically means rust on the inside, often leading to cracks and leaks. However, dirty water doesn't always mean a water heater replacement is a solution. The rod on your water heater is designed to attract corrosion that occurs when metal and water combine. If the rod wears out, rusted water is typically the result. To determine if dirty or rusted water is caused by water heater failure or the anode rod, contact a professional plumber in Fort Lauderdale for a water heater inspection.
Cold Water
Nothing's quite worse than showering and getting a sudden blast of freezing-cold water. As water heater tanks wear and tear, they get worse at heating water efficiently, likely due to sediment buildup. Sometimes there's nothing wrong with the water heater, but the unit could be too small for the home's occupants. If so, replacing your water heater with a larger tank is ideal. At Broward plumbing, we're highly experienced in replacing and installing water heaters in residential or commercial properties, so you can trust us to get the job done right.
Water Heater Leak Repair
Leaks from any household appliances raise a sign of concern, especially those containing water. If you've noticed an increase in your water bills without any changes in usage, it's advised to check for leaks. If you see pooled water around the base of your heater, it's important to turn off the water heater and water valve, then contact Broward Plumbing for 24-hour emergency assistance.
Sediment Build Up
To heat water, natural minerals like magnesium and calcium form into sediment particles that build up at the bottom of your water heater. If the sediment is not cleaned or removed, it can result in leaks, cold showers, and strange noises, shortening the lifespan of your hot water tank. If issues persist after the sediment is cleaned out, it's crucial to contact plumber experts before further damage occurs.
Expert Plumbers in Fort Lauderdale
Unless your water heater malfunctions, it can be easy to forget how amazing it is to have warm water throughout your property. For warm water that you can count on, reach out to the team at Broward Plumbing, and we'll get your water heater replaced in no time with our expert plumbing services in South Florida.