Spot the Signs of Winter Water Heater Failure
Posted in Hot Water Heater Repairs , on December 20, 2022
---
Most of us do not realize our dependence on hot water until it's suddenly gone. Nothing can be more frustrating than dealing with a water heater failure in the winter months! Imagine no hot water for your shower, laundry, or that pile of unwashed dishes! Whether you have holiday guests or just trying to get through your day, contact Broward Plumbing for reliable plumbers in Boca Raton in case of water heater trouble. Our specialists for water heater repair in Boca Raton can have your unit up & running in a jiffy!
Meanwhile, here's how to avoid the shock of cold water and learn telltale signs your water heater is on the fritz.
Drips or Leaks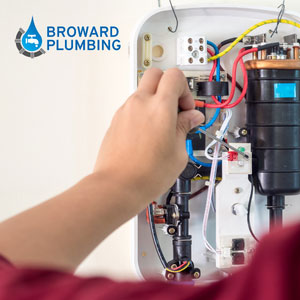 Don't wait for a plumbing catastrophe before taking action. It's always better to check and keep your eyes open for warning signs than suffer water damage and expensive water heater repair in Boca Raton. Check your unit regularly for drips or leaks from the tank, connecting pipes, or moisture pooling around the base. If you find any leaks or drips, call a professional plumber in Boca Raton to perform an inspection and all required plumbing services. It could be due to a corroded tank, loose connections, or a faulty TPR (Temperature/Pressure Relief) valve. A damaged heater tank should be replaced at the earliest for safe and efficient operation.
Strange Noises
Rumbling or popping noises from your heating unit is a sign that it's close to failing. These peculiar sounds indicate sediment and mineral build-up inside the tank. With time the build-up hardens and forms a thick layer making the water heater consume more energy to heat. It can also take a toll on the tank and ultimately cause cracks & leaks. Use a water softener and flush the tank regularly to prevent build-up.
Metallic or Rusty Water
Murky, rusty water that carries a metallic odor also indicates trouble with the water heater. It's a surefire sign of tank corrosion as rust and sediments travel into the water supply. Besides being unhealthy, the deposits and rust can reduce water flow and clog your plumbing system. Though some people may suggest coating the tank to slow corrosion, rust will eventually eat away the metal once the protective layer begins to wear off. If the problem is mild, tank flushing and anode rod replacement can extend the life for some time. However, the best option is water heater replacement by an expert plumber in Boca Raton.
Ageing Water Heater Repairs
If your water heater has served you for 8-10 years, it's time to bid farewell and upgrade to a new energy-efficient system. Contact a professional plumber to help you choose and install your new water heater. A licensed plumbing technician will ensure that the old unit is removed safely and a new one is installed correctly, meeting all your local code requirements.
Get Your Winter Ready with a Plumber Near Boca Raton
Regular hot water heater maintenance is crucial to get the most out of your appliance. Have a trusted technician perform an annual/seasonal safety check and required maintenance. Servicing should ideally include checking all components, including the TPR valve, tank, and anode rods. The tank should also be flushed annually to clear mineral and sediment residue.
Prepare for the cold weather ahead with a professional water heater inspection and service from Broward Plumbing. Whether you require water heater repair in Boca Raton, installation, or maintenance, you know you're in safe hands with Broward Plumbing. Call us if your water heater's failing or for any other emergency or general plumbing requirement. The Broward plumbing team is only a call away!