Step by Step Guide to a Plumbing Emergency in Fort Lauderdale
Posted in Emergency Plumbing Services, on September 20, 2022
---
Plumbing emergencies can overwhelm the best of us. Water can spread quickly, damaging your flooring, furniture, and other areas of your property. It can be tough to devise a concise plan when you're under a lot of stress. The key is knowing what to do during a plumbing emergency. It's good to have a backup plan, including the phone numbers of emergency plumbers.
Read on to know the steps to take during a plumbing disaster to minimize damage and get quick repairs by a reliable plumber in Fort Lauderdale.
Shut Off the Water Supply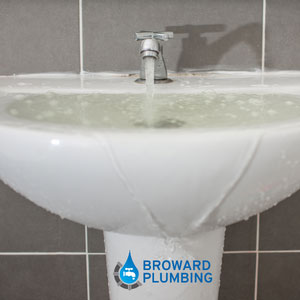 Cutting off the water supply is the first line of defence during a plumbing exigency. Even the tiniest leak can cause extensive water damage. So, cut off the water supply at the source by shutting off the water valve for a dripping faucet or a leaky pipe. It's also prudent to turn off the water heater. You should switch off the water main for flooding or other larger emergencies. If the flooding is due to the weather, you should also switch off the electricity and evacuate asap.
Minimize Small Leaks
Though the damage may seem extensive, you can quickly identify small leaks and plug them in. If available, use a plumber's tape to stop leaks. To avoid further damage, you can stuff thick towels or rags around a leaky pipe.
Contact a Professional Plumber Near Broward County
Contact a trusted plumber in Fort Lauderdale after taking these initial measures. Search for an emergency plumber online or in your local phone book. Call and explain the issue, including the steps you've taken. They may promise to come within the next 1-3 hours - if that's not quick enough, keep calling! Or, contact the experts at Broward Plumbing; we promise to be there in 1 hour or less! Before the next plumbing emergency, make sure to save the numbers of at least two trustworthy plumbing contractors. This will ensure you're not frantically searching for plumbers during an emergency!
Listen to Your Plumber's Instructions
A critical part of calling a reliable plumber in Fort Lauderdale is getting initial help. An experienced emergency plumber will tell you the basic steps to take and whether a situation is potentially dangerous. Listen to the plumber if he tells you to evacuate - it can save you and your family!
Get To Work While You Wait
If the plumber tells you it's safe, you can work on soaking up some of the excess water till help arrives. This will help minimize the water damage, and you can also tell the plumber where you've spotted a leak. Use sponges, buckets, mops, and towels to stem the overflowing water.
Emergency Plumbers in Fort Lauderdale
Plumbing emergencies are unexpected and never welcome, but they do happen. It can be a stressful and scary situation—being prepared with the steps to take will help keep calm and tackle the worst. Follow the above steps for help through a plumbing issue, and don't forget to contact an emergency plumber! Knowing whom to contact in an emergency is also critical. Thankfully, Broward Plumbing is a call away! We promise to be there in 1 hour or less for all your residential or commercial plumbing problems. Our certified plumbers in Fort Lauderdale offer 24-hour emergency plumbing services. Our plumbers in Boca Raton & Broward County guarantee a quick response, exceptional service, and transparent pricing.