The Benefits of Performing a Plumbing Inspection
Posted in Pipe Repair, on August 30, 2023
---
Plumbing often takes the spotlight when you think of the essential systems that keep your home running smoothly. A well-functioning plumbing system is at the core of your household–sudden plumbing issues can wreak havoc! That's where regular plumbing inspections by expert plumbers in Fort Lauderdale come into play. With reliable 24-hour plumbing services, including polybutylene pipe repair, Broward Plumbing ensures your home remains a sanctuary of comfort and convenience. Join us to learn why annual plumbing inspections are a smart choice!
Prevent Hassles & Costly Surprises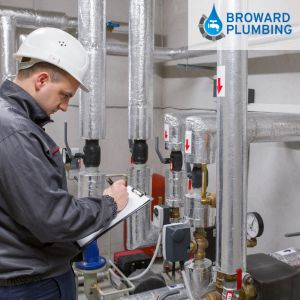 Imagine coming home after a long day to find a leaky pipe flooding your bathroom room or no hot water for daily chores. Plumbing mishaps can quickly turn into costly nightmares if not addressed promptly. A broken sewage pipe can result in repair costs of $1,000 - $2,000, coupled with hefty cleaning bills and property damage. An annual home plumbing inspection by a trusted plumber in Fort Lauderdale acts as a financial shield, catching such minor issues before they escalate into expensive disasters. Proactive maintenance is crucial to identify weak points in the plumbing and allow controlled repairs before chaos ensues.
Preserve Water Resources
Responsible homeownership emphasizes resource conservation, including water and electricity. Leaky pipes, dripping faucets, and running toilets can waste hundreds of gallons of water over time. This directly impacts your wallet and the environment. Plumbing inspections can identify these wasteful leaks, helping you save on utility bills and contribute to broader conservation efforts. Broward Plumbing's commitment to sustainable solutions, including polybutylene pipe repair, can prevent unnecessary water and financial drains.
Extend & Preserve the Lifespan of Fixtures
From faucets to water heaters, your plumbing fixtures are investments that enhance your daily living. Proper maintenance can preserve and extend their lifespan, allowing you to enjoy their benefits for years. A professional plumbing inspection can identify corrosion, sediment buildup, mineral deposits, and other issues contributing to premature wear and tear.
Boost Property Value
Whether or not you plan to sell your home, maintaining a smooth-functioning plumbing system can positively impact its market value. Prospective buyers will be more interested in a property with a documented history of regular maintenance and inspections. Broward Plumbing's commitment to transparency and quality service can help maximize your property's worth.
Early Detection of Plumbing Concerns
Even minor plumbing issues can lead to significant stress and disturbances. An annual assessment of your household plumbing can help you stay clear of the following:
Malfunctioning water heaters & fixtures
Leaking or corroded pipes
Sewer Line blockages
Backup problems
Low water pressure
Running or clogged toilets
Other plumbing issues
Addressing plumbing problems early facilitates a cost-effective solution with minimal disruptions to your daily routine. Investing in an annual plumbing inspection saves you money in the long term and ensures the peace of mind that comes with well-maintained plumbing infrastructure.
Seamless Plumbing Solutions from Broward Plumbing
Don't let plumbing problems drain your energy or wallet. Regular maintenance by skilled plumbers in Fort Lauderdale shields against unforeseen issues. Trust the expertise and experience of Broward Plumbing and make plumbing inspections a part of your home maintenance strategy. Our certified technicians can detect and address all plumbing issues, including polybutylene pipe repair. Eliminate unexpected plumbing emergencies & hassles–Call now to book your Broward Plumbing home inspection!