The Importance of Regular Hydro Jet Cleaning for Preventive Maintenance
Posted in Drain Cleaning , on March 22, 2023
---
Hydro jet drain cleaning or hydro-jetting is a powerful method of drain cleaning in Boca Raton and Broward County designed to effectively remove debris, and prevent blockages. Regular hydro jet cleaning is essential for preventive maintenance of your sewer lines, helping to keep them in top condition. Expert plumbers near Boca Raton recommend regular hydro jetting to prevent frustrating clogs and backups.
Here's a deep dive into hydro jet drain cleaning basics and its numerous benefits!
The Science Behind Hydro Jet Cleaning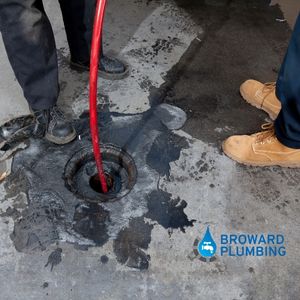 Hydro jet drain cleaning uses high-pressure water streams to clear debris and waste build-up from sewer line interiors. It uses a high-pressure hose and a special nozzle to push out powerful water streams to dislodge stubborn obstructions, limescale, and other unwanted debris from your sewer lines. The process involves a drain camera inspection of the sewer lines to identify clogs and blockages. It also allows plumbers near Boca Raton to see the condition of the pipes and assess whether they can handle the pressure of hydro jet cleaning.
Regular Hydro Jet Cleaning Benefits
Effective Against Persistent & Stubborn Clogs: Hydro-jetting is the most effective technique to clear persistent blockages and clogs in your sewer lines. Hydro jet cleaning scores over traditional plumbing methods as it leaves no leftover debris or excess build-up along the pipe walls. The pressurized water streams of a hydro-jet power through the sewer lines, thoroughly cleaning the pipelines with no residual waste or scale.
Prevents Costly Repairs: Functional sewer lines are critical for your plumbing system's effective and smooth functioning. Blocked sewers can cause smelly sewage to back into your home, damaging property and posing a health hazard. Regular hydro jet cleaning is an excellent preventive measure, saving homeowners from costly repairs and disruptions in their daily lives. As it is a non-invasive method, you can eliminate blockages without unnecessarily digging and destroying landscaping and flooring.
Excellent Maintenance Tool: Clear-flowing sewers have fewer chances of clogs and other drain-related plumbing problems. Thankfully, regular Hydro jet drain cleaning ensures well-maintained pipes and sewer lines. It also requires less time than orthodox plumbing methods. All repairs can be done quickly, with minimal inconvenience to homeowners. Thus, hydro jet cleaning significantly reduces your overall sewer maintenance costs. Preventive hydro jetting also minimizes the need for expensive emergency plumbing services.
Improves Longevity: Frequent blockages and debris build-up can cause wear and tear on sewer lines, leading to deterioration and eventual failure. Annual hydro jet cleaning by a professional plumber near Fort Lauderdale can prevent this and allow sewer lines to function optimally for decades.
Non-Invasive & Eco-Friendly: Hydro jet drain cleaning is a non-invasive and environmentally friendly technology that does not use harsh chemicals. A water-based cleaning method, hydro-jetting is safe for homeowners and the environment as it doesn't leave chemical residue that can seep into the soil, waterlines, ponds, or rivers.
Preventive Hydro Jet Drain Cleaning from Broward Plumbing
Periodic hydro jet drain cleaning prevents costly sewer repairs and inconveniences and optimizes your plumbing. At Broward Plumbing, we know the significance of clean and well-maintained sewer lines. We're your go-to plumbers near Boca Raton, offering quality plumbing and hydro-jet cleaning services at upfront, transparent prices. So, do not wait for a sewer disaster to strike!
Contact the experts at Broward Plumbing today to schedule your next hydro jet cleaning appointment!