Tips for a Plumbing Emergency in Fort Lauderdale
Posted in Emergency Plumbing Services, on November 03, 2021
---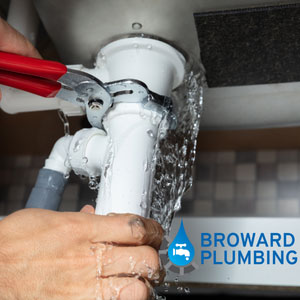 When it comes to plumbing emergencies, the sooner you can call a plumber in Fort Lauderdale, the better. Plumbing issues often have immediate and devastating consequences. That is why it is vital to contact a 24-hour emergency plumbing company to promptly tackle your plumbing emergency. It is also worthwhile to be prepared and know what to do when an emergency strikes! Check out our helpful tips for dealing with an emergency plumbing situation:
What To Do When You Suspect A Plumbing Problem
Plumbing issues can catch you off guard, but there are warning signs that you can look out for. Low pressure, discoloured water, persistent clogs, high utility bills and foul odours are signs of a potential plumbing problem. If you suspect a plumbing issue, do not delay calling a trustworthy plumber in Fort Lauderdale. The longer you take to seek professional help, the more extensive and expensive the damage. A 24-hour emergency plumber in Fort Lauderdale can guide you in case of severe emergencies, telling you exactly what to do to safeguard your home and family.
What Are Emergency Plumbing Problems
A plumbing emergency is a situation where your plumbing problems are more severe than usual. They usually involve a threat to the safety of occupants and the risk of water damage to homes and property.
Common emergency plumbing problems include:
Ruptured Or Leaky Pipes
Overflowing Toilets
Sump Pump Failure
Clogged Sewer Line
Slow Draining Sinks
Malfunctioning Water Heater
Jammed Garbage Disposal
Sewage System Backup
Emergency Plumbing Tips To Mitigate Damage
Have essential plumbing tools handy. This includes wrenches, slip joint pliers, allen wrenches, duct tape, and screwdrivers.
Know the location of the main shut-off valve for your water supply. In case of a leak or damaged pipes, the first thing to do is to shut the water main.
If the problem is a minor one, like a leaky faucet, you can turn off the isolation valve of the particular fixture to stop the water flow in that area.
This way, water will be available in the rest of the house while you fix the problem. It is really beneficial when you do not have access to 24-hour plumbing services and need to wait for professional repair. Since isolation valves are not used that often, turning them off and on once in a while keeps them in good working condition.
Turn off electrical appliances, especially the water heater during major emergencies. This helps prevent accidents and associated damage. In case of flooded basements or other major emergencies, switch off the power from the breaker box for safety.
Use pipe sealing tape or duct tape as a temporary solution to bind a cracked pipe. This can reduce the water leak till professional help arrives.
Use a cup plunger to unclog small drains in the sink or bathtub. A forced cup plunger should be used for clogged toilets. A word of caution—if this doesn't work, it is best to call an experienced plumber in Fort Lauderdale asap.
Taking photos or videos can help the plumber. It can also help with any insurance claims that you may need to file.
Your Leading Emergency Plumbers in Fort Lauderdale
Your prompt action can prevent expensive repairs and damage! Don't hesitate to call for 24-hour emergency plumbing services and keep the above tips in mind to avoid significant damage to your home. Emergencies can happen any time of the day; that is why Broward Plumbing is there to help—24 hrs a day, seven days a week! Contact us today to put an end to any plumbing emergencies!