Tips for the Best Water Heater Maintenance
Posted in Hot Water Heater Repairs , on May 26, 2023
---
We only recognize how integral our heater is once something goes wrong. To keep our homes or businesses running smoothly, ensuring all water heater maintenance is kept up to date is essential. There are some key maintenance tips to help keep your water heater in the best shape and prevent water heater repair in Boca Raton. Broward Plumbing offers licensed and highly skilled plumbers near Boca Raton specializing in conventional, hybrid and tankless water heater repairs.
Read on to learn the tips for the best water heater maintenance.
Regular Service and Flushing Water Heaters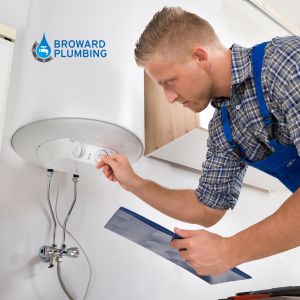 It is best practice to have your water heater maintained annually. Having the water heater flushed is imperative to keep your water heater running effectively and ensure you don't end up losing your hot water. When you flush out the water heater, you prevent the buildup of sediment and minerals; if you have hard water, you may need to flush more frequently. Having your hot water heater flushed regularly will also prevent rust corrosion.
Always get your water heater serviced so issues can be identified before becoming more serious.
Maintenance Tips for Water Heaters
There are a few other tips you can do to maintain your hot water heater.
Vacation Setting: If you go traveling, change your water heater to a vacation setting; this way, it is not heating the water while you are away.
Drain Tank: drain your water tank if you have one and remove sediment.
Anode: Check your anode regularly, as it is an important piece of your water heater.
Leaks: Always check for leaks and fix them right away.
When to Call a Plumber
If you are suffering from issues with your water heater, don't hesitate to contact a professional plumber near Boca Raton. Water heater issues that are left unattended may result in serious structural damage to your property. If you begin to notice lower water pressures, rusty or discoloured water or any gurgling noises, you may need a water heater repair in Boca Raton.
Never Ignore Water Heater Leaks
A leak left ignored is able to cause severe and costly damage to your property. Water damages the structure of your home and can potentially invite a mould infestation, which is certainly an issue you don't want to worry about. Making sure you move quickly when you spot a leak is your first step to protecting your home from water damage and servicing your water heater to function properly.
Plumbers Near Boca Raton
Broward Plumbing is available for all your plumbing needs; once you call us, we can reach your doorstep in 45 minutes. We have a team of experienced licensed plumbers available 24 hours a day. If you have any questions about your water heater, feel free to call us for a free phone consultation. We take great pride and confidence in our work and provide a warranty on all of our work.
Contact Broward Plumbing today for your free phone consultation and keep your water heater in its best condition.