Toilet Installation: Hire a Professional or DIY?
Posted in Toilet Repairs & Installations, on August 02, 2022
---
Your washroom is the core of your home, and when your toilet isn't working correctly, it can spell trouble for you and anyone else living on your property. It can be tempting to run to your local hardware store and buy toilet equipment for DIY toilet installation and repairs instead of calling an emergency plumbers near you. Although, this may not be the best decision as most toilet repairs and installations require professional equipment and expertise. When searching for plumbers in Fort Lauderdale, it's best to look for a trustworthy and reputable business to get the service you deserve.
Read on to know if you should hire a professional or DIY when your toilet isn't working properly.
When To DIY Your Toilet Installation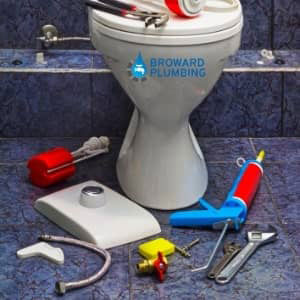 Toilet installation can be tricky to do, and when installed incorrectly, it could cost you more money and time - ending up doing more harm than good. Though some people may have common plumbing knowledge and skills, the average DIYer is not usually familiar with the standard techniques compared to certified plumbers. If you are experienced with plumbing, you can install or repair your own toilet with specific tools and knowledge, although, if a leak happens, you need to be prepared. It can lead to plumbing emergencies, including flooding, slow flushing, leaking, or an imbalanced toilet/seat. If you attempt to install or repair your toilet, remember that the difficulty level is intermediate to expert. To prepare, you must have the tools required to remove the old unit and install the new one securely. Most homeowners will not have these tools and will spend quite a bit of money on equipment. Because of these reasons, it could be financially better to hire a professional instead of wasting money on tools that you may not know how to use correctly.
The experts at Broward Plumbing recommend that you find a professional to perform your toilet installation and repairs as it guarantees the best results.
When To Hire A Professional Plumbing Company
The team at Broward Plumbing suggests that you always hire a professional unless you are highly experienced in plumbing. Professional plumbers in Fort Lauderdale are equipped with the adequate knowledge and tools to install or repair any toilet. Plumbing professionals are also experienced in seating the toilet and recognizing old polybutylene pipes. When a toilet is installed incorrectly, it can result in an improper seal and leaks around the toilet. When you turn the toilet on, one mistake could cause a rush of water to leak over your entire washroom, creating a mess.
The experts at Broward Plumbing know how to use spacers and secure the toilet to the drain hole, all while avoiding leaking or flooding issues. Our plumbing technicians will install or repair your new toilet quickly and at an affordable price. Have peace of mind that your toilet is installed correctly with certified and trained plumbers.
The Best Plumbers Near Fort Lauderdale
If you want a reliable, safe, and quick toilet repair or installation, it is best to contact the professionals at Broward Plumbing for guaranteed expertise and correct installation. Forget about a DIY experiment; Instead, contact our technicians for 24-hour emergency plumbing and toilet services at a cost-effective price.