Top 5 Reasons To Call An Emergency Plumber in Fort Lauderdale
Posted in Emergency Plumbing Services, on June 16, 2021
---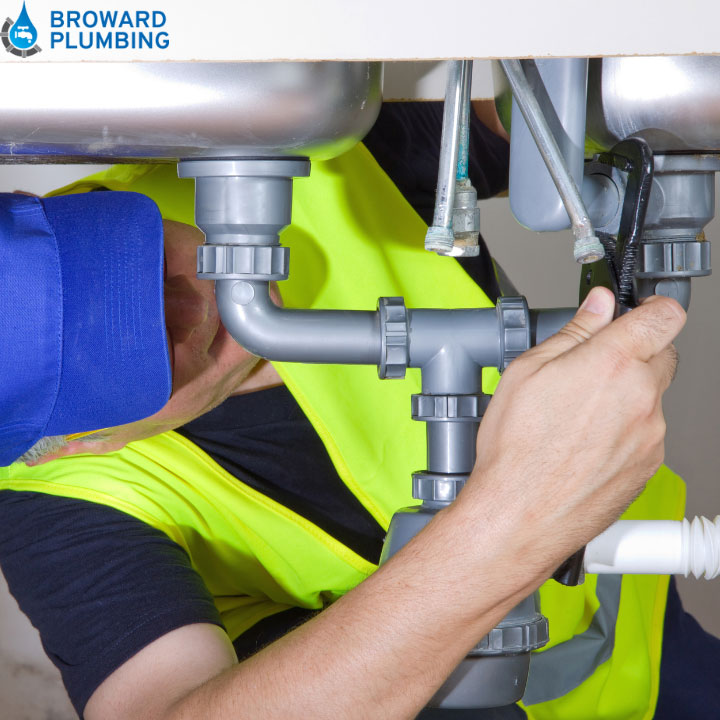 While every homeowner faces plumbing issues, some seemingly minor problems can quickly snowball to catastrophic proportions! DIY solutions are, at best, temporary, and some plumbing problems are best left to the experts. A timely call to an emergency plumber in Fort Lauderdale can save you plumbing headaches, time, and dollars. Broward Plumbing tackles numerous plumbing emergencies every day, offering reliable 24-hour emergency plumbing services in Fort Lauderdale. However, knowing when to call a professional plumber can help avert a plumbing disaster! Here are five reasons to consider the situation a plumbing emergency and speed dial an emergency plumber in Fort Lauderdale.
1. Broken Water Main
The water main connects your home's plumbing system to the public water supply. With time, the water lines can deteriorate due to mineral buildup, tree root invasion, and ground movement. Yard renovation work can also damage the underground water pipes. All the above can cause breaks or leaks, leading to poor water quality, low water pressure, and soggy patches in the yard. Never try to fix the water mains yourself. These lines are buried underground and require professional plumbing services in Fort Lauderdale to detect any leaks & breaks. Plumbing professionals have advanced drain cameras and other sophisticated equipment to detect and resolve such hidden leaks.
2. No Hot Water
Lack of hot water is a plumbing nightmare! Imagine turning on the shower in the middle of winter only to find the icy cold water. Yikes! Lack of hot water can also hold up daily chores such as washing & dishes. This plumbing emergency could be due to a plumbing leak, water heater, or electrical issues. A trained plumbing expert from Broward Plumbing can diagnose and resolve the issue to your satisfaction in no time!
3. Flooding & Major Leaks
While every leak cannot be termed a plumbing emergency, if it's causing flooding and damage to your home, you need to call an emergency plumber in Fort Lauderdale immediately! Leaks can not only escalate your utility bills but also cause considerable damage to your property. Temporary fixes like shutting off the water supply to the particular unit will buy you time until a plumbing professional rectifies the problem.
4. Leaky Washing Machine Hose
Washing machines are sturdy workhorses—it is the water hoses that are prone to leaks and cracks. Do not ignore a broken or leaky washing machine hose. It can seriously damage your floors & equipment and also encourage rust and mold. If you find an issue with the hose, get an experienced technician to replace it at the earliest.
5. Clogged Shower Drains & Bathtubs
The bathtub and shower drain tend to clog frequently due to hair, soap scum, and other shower debris. Standing water can pose health risks for your family. If at-home methods and drain catchers don't seem to work, immediately contact a professional plumber.
Handle Plumbing Emergencies in Fort Lauderdale
Easy! Call Broward Plumbing or contact us online and let us take care of your plumbing woes! Whatever be the plumbing issue, the expert technicians at Broward can handle it. We understand that plumbing emergencies don't wait for business hours—our emergency plumber in Fort Lauderdale is available round the clock to help! In addition to emergency plumbing services, Broward Plumbing provides all general plumbing services & repairs, plumbing camera inspection, drain cleaning, pipe repair, and water heater repair.