The Unforseen Costs of a Water Leak in Fort Lauderdale
Posted in Water Leak Detection, on June 07, 2022
---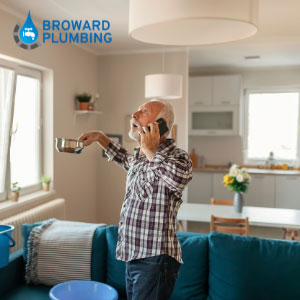 Most people think of cracked toilet bowls, clogged sinks, and burst pipes when it comes to plumbing issues in Fort Lauderdale. While these are common occurrences, there is another problem plaguing homeowners across the country and one of the most popular calls our plumbers in Fort Lauderdale receive: water leaks.
According to a study by InsuranceQuotes.com, the average U.S. home suffers from two water leaks per year. The study found that this results in $1,000 worth of repair costs per year in the average city. That's not exactly chump change. The biggest problem with water leaks is that they can be hard to detect. Broward Plumbing offers superior water leak detection services in Fort Lauderdale, using a plumbing inspection camera to quickly detect your leak and save you money.
Preventing Water Leaks
There are a few things you can do to try and prevent water leaks in your home.
First, get yourself a good plumbing inspection by a certified plumber in Fort Lauderdale once a year. This will help identify any potential problem areas before they become an issue.
Secondly, be sure to fix any minor plumbing issues as soon as they arise. A small drip can quickly turn into a gushing leak if left unchecked.
Finally, keep an eye on your water bill. If you see a sudden spike in usage, there's a good chance you have a leak somewhere.
Types of Water Leaks
There are a few different types of water leaks that our plumbers in Fort Lauderdale see regularly.
The most common is a toilet leak. Toilet leaks can occur for a number of reasons, but the most common is when the wax ring seal around the base of the toilet breaks. This can happen if the toilet is old or if it was not installed correctly.
Another type of leak that our Broward Plumbing professionals often see is a sink leak. Sink leaks usually occur at the point where the sink meets the countertop or at the point where the hose connects to the faucet. These types of leaks are usually caused by worn-out seals or gaskets and can be fixed relatively easily. However, if left unchecked, they can cause serious damage to your home.
The third type of water leak that our plumbers in Fort Lauderdale see on a regular basis is a pipe leak. Pipe leaks can occur anywhere in your home where there are pipes, but they are most commonly found in basements and crawl spaces. Pipe leaks are usually caused by corrosion or physical damage to the pipe itself. If you suspect that you have a pipe leak, it is important to call a professional immediately, as these types of leaks can quickly lead to major water damage in your home.
What To Do If You Have A Leak
If you find yourself with a water leak, the first thing you should do is turn off the water in your home. This will help prevent any further damage from occurring. Once the water is off, you can then assess the situation and decide whether or not you need to call an emergency plumber in Broward County. If the leak is minor, such as a drip from a faucet, you may be able to fix it yourself. However, if the leak is more significant, it's best to leave it to the professional plumbers in Fort Lauderdale. Broward Plumbing offers 24/7 emergency plumbing services in Fort Lauderdale, so we can be there when you need us most. Give us a call today!
Contact Our Plumbers Near You for Fast Service
Water leaks can be the most expensive unplanned expense you could experience at your business or residence. Broward plumbing has been serving the South Florida area with quality water leak detection services for commercial and residential properties.
​​If you do find yourself with a water leak, the best thing you can do is call a professional plumber in Fort Lauderdale right away and inquire about their leak detection services in Fort Lauderdale. Water leaks can cause all sorts of damage to your home if left unaddressed, so it's important to take care of them as soon as possible. Reach out to Broward Plumbing today if you require water leak detection services.