What a 24 Hour Emergency Plumber Can Offer
Posted in Emergency Plumbing Services, on August 09, 2021
---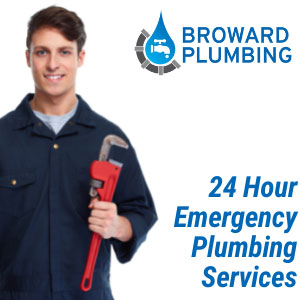 Any homeowner in Boca Raton, Parkland, or Fort Lauderdale that has ever experienced a plumbing emergency knows that they can be highly stressful and inconvenient situations. Almost always picking the wrong time, they tend to occur in the middle of the night, during holidays, or on special occasions. When not attended to quickly, emergency plumbing problems can have devastating and costly effects on your home. If you ever find yourself in a burst pipe nightmare or similar plumbing disasters, you can count on the 24-hour emergency plumbing service from Broward Plumbing. Our emergency plumbers in Boca Raton, Parkland, and Fort Lauderdale offer top-tier plumbing solutions with plumbing peace of mind!
What Problems Can An Emergency Plumber Fix
Blocked Drains: One of the most common but insidious plumbing emergencies, blocked drains can disrupt your everyday life. DIY fixes can do more harm than good, so contact a trusted 24-hour emergency plumbing service at the earliest.
Leaking Pipes: When you can spot damp patches on your walls and ceilings or unusual puddles, you know you have a pipe leak! Don't ignore the warning signs; reach out to an experienced emergency plumber in Boca Raton, Parkland, and Fort Lauderdale.
Broken or Cracked Pipes: Sudden pipe cracks and breaks can have water gushing out at great speed to ruin your home and property. An emergency plumber can minimize the damage and quickly replace it with a new pipe.
Blocked or Overflowing Toilets: Nothing can be more distressing than an overflowing toilet! Don't panic! Whatever be the cause, an emergency plumber can save the day and fix the problem in no time.
Sewer Line Blockages: Can not only be damaging but also pose a health risk. We recommend hiring a professional to tackle this one!
Why Call An Emergency Plumber in Boca Raton, Parkland, Fort Lauderdale
A 24-hour emergency plumber is your go-to support resource if you find yourself in an unenviable plumbing emergency. Here's why you need one:
A quick & effective solution—A plumbing emergency calls for swift action and quick thinking. Professional emergency plumbers offer real-time solutions and have the expertise to resolve any plumbing issue quickly.
Convenience—they are available at all times to provide help for any plumbing difficulty.
Safety—broken pipes, blocked drains, and overflowing toilets all carry an element of risk. An emergency plumber is trained and certified to handle such situations with all safety precautions.
They can help save money—while some homeowners may be reluctant to hire an emergency plumber because of higher rates charged by few companies, they can save your money. The quicker you can resolve a cracked pipe, for example, the lesser damage to your property.
Offer peace of mind—we all have enough problems in day-to-day life, and the last thing you need is a plumbing problem! An emergency plumber can handle the trickiest of situations while ensuring minimal disruptions to your daily routine.
Find an Emergency Plumber Near You at Broward Plumbing
Broward plumbing provides 24-hour emergency plumbing services near you that you can trust! Our trained plumbers are experts in quickly resolving urgent plumbing issues at fair, affordable prices. Broward professionals are dedicated to provide 24/7 plumbing services and have a proven track record of exceptional workmanship. Our technicians are standing by for all your plumbing emergencies. Contact us online or call our 24-hour emergency plumbing service, and we'll be there to help!