What Are Bellies in Cast Iron Pipes?
Posted in Sewer Line Repair, on October 06, 2023
---
One of the absolute worst things that can happen to any homeowner is a sagging sewerage line, also known as a belly. Bellies in cast iron pipes can cause a sewage line back-up, which can be a very troubling problem. So, what is a sewer line belly anyway? It is a sagging of the sewer pipe that happens over time due to erosion, laying improper pipe gradient, and other factors which we will explore. The result of this downward sagging allows for stagnant water to pool and cause major problems such as blockages. The best way to handle bellies is with a plumber that specializes in cast iron pipe repair.
At Broward Plumbing, our licensed and certified plumbers in near Boca Raton provide prompt and reliable services.
Causes of a Belly in Sewer Pipes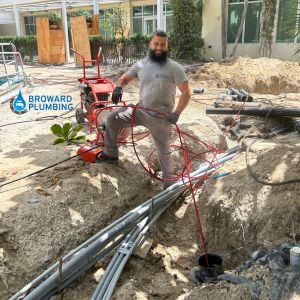 Poor planning and installation are one of the main culprits in sagging pipes. Prevention is better than cure, so it is important to hire the right plumbers, such as Broward Plumbing, for sewer pipe installation to ensure the job gets done properly. Expert plumbers know what materials to use, they understand what the gradient needs to be for gravity to carry waste away, and they know the correct way to compact the bedding or soil surrounding the pipe. However, there are factors that cannot be controlled, such as tree roots, soil erosion, earthquakes, extreme heat or cold, fluctuating temperatures, sinkholes, heavy rain, or flooding, which shift soil, resulting in bellies.
Signs of a Sewer Pipe Belly
The most obvious sign is the backing up of toilets or drains every time you try to flush water. Recurring clogs are one of the most common causes of these pipe deformities. This could also be accompanied by a bad smell. If this keeps happening in the same area, it's best to search for a trusted plumber near you. As bellies get worse, they are facilitated by the pressure of standing water. At Broward Plumbing, our experts will use 360º robotic camera inspections to assess the condition of your sewer line to determine whether you need cast iron pipe repair. Based on our assessment, our specialists will provide you with a sewer repair plan or recommendations for cast iron pipe replacement.
Repairing a Sewer Line Belly with Broward Plumbing
Cast iron pipe repair is no easy task, and no two jobs are the same. Every problem is unique. It's nearly impossible to do this on your own without the right equipment and experience. Expert Plumbers, Broward Plumbing, can assess and get to work. The best thing to do is usually dig an open trench down to the sagging pipe. Then, with access, they can replace damaged pipes with new piping, joints can be reinforced and strengthened, they can reinforce the soil compaction to code, and they can fill in the space beneath the piping. The last step would be to fill the trench.
Sewer Repair Plumber in Boca Raton
When you notice a change in your plumbing system, trust the experienced and licensed plumbers in South Florida for reliable repair services. At Broward Plumbing, we offer a wider range of plumbing services, including emergency plumbers in Boca Raton to deal with urgent backups and sewer cracks.