What Can Sewer Cleanouts Do for Your Property?
Posted in Drain Cleaning , on July 25, 2022
---
When your sewer pipe is clogged, it causes problems with your plumbing fixtures, including your faucets, toilets, shower, washing machine, and dishwasher. If you notice that water backs up in other places when using a water fixture, you likely need a sewer line repair in Boca Raton and cleanout. A sign to look out for is if water backs up into the tub or shower after you flush your toilet and if your toilet or sink starts to overflow when you are using the washing machine. The plumbers in Boca Raton and Broward County at Broward Plumbing have years of experience and are highly trained in sewage cleanouts.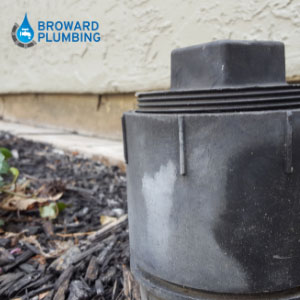 Read on to learn what sewage cleanouts can do for your property.
Benefits of Sewage Cleanouts
Prevent Backups: The most important reason to get a sewer cleanout is to prevent backups. Sewer backups are more common than you think and cause havoc on your home and health. If the lateral clogs, it will most likely cause sewage to back up into your drains, creating a mess and a health risk. If looked at before a clog happens, it saves you loads of money and reduces the risk of these plumbing emergencies.
Reduce The Chance of Clogs and Damage: When your toilet or sink clogs, it's a nuisance to all. When your everyday essentials are unavailable, it causes issues all around. It's best to find a plumbing company to clean out your sewer line so you can improve your pipe drainage. The plumbing experts at Broward Plumbing have the equipment and experience to detect the problem before it occurs. Cleaning your sewer helps keep the pipes clear and drain water if a backup occurs.
Get Rid Of Bad Odors: When you have a sewage backup, it leaves a funky smell throughout your home. When untreated, it causes serious health concerns to those on your property. Sewage backups produce air-borne and physical contaminants that make you sick if inhaled. When inhaling vapors from raw sewage can lead to gastroenteritis, which is associated with vomiting, cramping, fever, and potential death if untreated. It's essential to contact an emergency plumber near you in Boca Raton for sewage cleanouts as soon as you notice the problem.
Save Money and Protect Your Pipes: Getting your sewer professionally cleaned out allows you to save money in the long run. When backups or emergencies occur, the damage to your home can be enormous. When preventative measures are in place, it significantly reduces the risk of a blockage in your home. Don't let your sewage backup go untreated; call an expert to get it fixed.
Choose the Top Plumbers Near You in Boca Raton
Whether you have moved into a new home or have been living on the same property for years, it's best to check your drain line to ensure that you prevent backups, damage to your home, and health risks. The team at Broward Plumbing is licensed and certified in sewage cleanouts, no matter how challenging the job may be. Our goal is to get our customers back to their regular lives with outstanding plumbing services in Broward County and surrounding areas.
Contact us today for a sewage cleanout!