What Causes Blockages in Cast Iron Pipes
Posted in Pipe Repair, on August 29, 2023
---
Cast iron pipes were the go-to material for piping systems in the past, as they were proven durable and long-lasting. However, as of the 1980s, they were discontinued as they were no longer the most trusted material. Many people found flaws in cast iron pipes, even with their benefits. If your home is still running with cast iron pipes and you run into plumbing issues, call the Broward Plumbing plumbers in Boynton Beach for cast iron pipe repair. With extensive training, our staff has the tools and knowledge to perform a repair or a complete replacement.
Explore some common causes of a blockage in your cast iron pipes below.
Mineral Sediment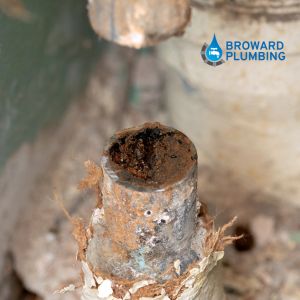 It's evident that minerals are present in municipal water. It's up to you to determine using a water softener. If not, there is more chance for minerals to go through your pipes, leading to more risk of sediment buildup. Over time, if not appropriately treated, it can eventually lead to blockages within your pipes that can lead to leaks, water discolouration or faulty water pressure, just to name a few. Buildup can occur anywhere along the pipeline, possibly requiring invasive repairs.
Cast iron pipes have a tendency to develop bellies, where the pipe creates a dip in the track, affecting the natural flow of water through the pipes. Bellies are an optimal place for sediment to build up, which causes more frequent blockages. It's essential to inspect your pipes regularly in case you are in need of cast iron pipe repairs.
Foreign Objects
When flushing toilets or rinsing things down the drain, it's essential to be aware of what's going down. Many foreign objects cannot drain properly in your pipes, leading to clogs. Ensure that the only thing going down your toilets is toilet paper. When rinsing out the sink, avoid stuffing food scraps and oils or grease down the drain. Fats and grease eventually solidify, resulting in clogs. Avoid rinsing hair down the drain in bathroom sinks, as it can slow down the draining process and lead to more profound clogs in the pipes. Educate everyone in your home about what is appropriate to put into the drains and pipes to experience a seamless draining process. This way, you will make fewer calls to Boynton Beach plumbers.
Rust and Corrosion
As metals are known to rust when in contact with water, cast iron pipes are prone to the sighting of rust. Rust often works to weaken the pipe walls leading to leaks and water damage. However, rust can begin accumulating, fostering clogs in the pipes. A good indicator you have rust in your pipes is the discolouration of water. Once noticed, contacting a plumber is best to avoid future leaks.
Cast Iron Pipe Repair with Broward Plumbing
Our plumbers in Boynton Beach have the knowledge of the regional history and culture to best tend to your plumbing systems. From water heater repair to cast iron pipe repair, consult our professionals with adequate training to get your home functioning again. We strive for customer satisfaction, getting the job done the first time, so you don't need to seek the help of another professional. Call now if you need plumbing services.