What is a Reliable Plumbing Company For Emergency Services?
Posted in Emergency Plumbing Services, on March 10, 2021
---
Horror stories about plumbing disasters & inexperienced plumbers are not uncommon. That is why a little due diligence will ensure you hire an expert plumber in Fort Lauderdale or Broward County from a reputable plumbing company. A qualified plumber near Boca Raton or Broward County should be trained, licensed, and have the on-field experience to handle all regular and performs all emergency plumbing services with ease. Here's what to look for in plumbing companies (and save yourself high bills & headaches that come from hiring the wrong plumber!):
Licensed & Insured
This is one of the first things that you need to confirm when engaging a professional plumber. A licensed plumber is required to be registered with the local/state governing body and needs to pass all requisite tests for getting a license. Many plumbers work without one—be sure to ask about licensing. The second factor is insurance; any plumber you hire should be insured so that you are not legally liable for any unforeseen accidents. All renowned and trustworthy plumbing companies like Broward have liability insurance for injuries or mishappenings on the job.
Experience & Training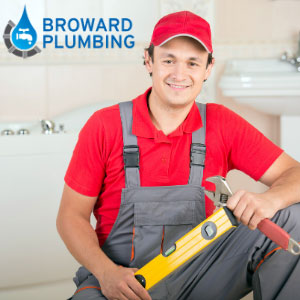 Professional Plumbing companies employ a team of plumbing professionals, so you need to make sure that the plumber on the job has the required experience and training. Always ask about the level of experience and plumbing qualifications before hiring. The right plumber will be updated about the current plumbing tools & technology like robotic drain cameras, water jets, etc. You definitely don't want to pay thousands of dollars on a botched-up plumbing job by an untrained novice!
Estimated Cost
Good plumbers will give you an estimated job quote with transparent pricing. You need to be wary about random plumbing quotes over the phone—a professional plumber will want to examine the plumbing problem before they give you a proper estimate about the estimated repair cost. Also, a reliable plumber will clearly quote the cost of parts and the labour charges in the price estimate.
Work Warranty
When searching for a 'professional plumber near me', look for plumbing companies that offer a guarantee on repair work undertaken. At Broward Plumbing, we stand behind all our work, offering a work warranty and service contracts. Warranty for parts depends on the manufacturer's warranty. Make sure you ask about the work warranty & service before hiring a plumbing company.
Post Work Cleanup
Any plumbing job that leaves behind a mess and repairs debris is a shoddy one! Professional plumbing companies will make sure that the worksite is left clean and spotless. Always ask whether cleanup is included in the estimated cost so that there are no messy surprises later on.
References & Reviews
Researching about the reviews and references in this digital age is quick & easy. Read reviews about the company to find out customer experiences. You'll get a fair idea about the plumber and whether they are equipped to handle the job at hand.
COVID Protocols from Emergency Plumbers in Boca Raton
With the uncertainty & ever-changing circumstances surrounding the Corona pandemic, it is vital to ensure that plumbing companies follow necessary COVID-19 precautions. Safety protocols like disposable protective equipment like masks, gloves, social distancing, and sanitization are required.
Now that you know what to look for in a reliable plumbing company, you know you can trust Broward Plumbing to do the job right! The numero-uno full-service commercial & residential company across Broward County, our trained, licensed, and experienced crew will take care of all your routine and emergency plumbing problems!
Call us on 954.516.7777 or 561.570.7777 or contact us online today!