What Is Considered An Emergency Plumbing Repair
Posted in Emergency Plumbing Services, on April 26, 2022
---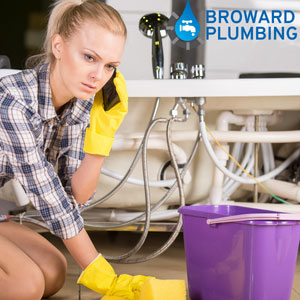 In the plumbing industry, most professional plumbers in Boca Raton & Broward County will tell you that the main plumbing problems are clogged drains and leaky pipes. While both of these are true, they are not really plumbing emergencies. A true emergency plumber near Boca Raton will repair is anything that deals with a severe loss of water or water on its way to a loss of property damage.
List Of Emergency Plumbing Repair Problems
A plumbing emergency repair is an urgent problem with your plumbing system or equipment that needs to be addressed immediately to prevent damage or injury.
These are considered plumbing emergencies by plumbing companies and should be handled immediately:
Leaking water or flooding
Clogged drain and drainage problems
Water or gas leaks
Broken hot water heaters
Low water pressure or no water pressure
Complete loss of water
Broken sewer line
True Emergency Plumbing Issues
These three things (and their causes) are considered a true plumbing emergency.
Sewage Back up
If your home or business experiences a sewage backup, you will want to seek help quickly from a plumbing company in Broward County. The reason is that sewage can be quite damaging to property, and it can make people sick too. Sewage backups occur when something blocks the sewer line and keeps everything from draining away properly. This can lead to various problems such as property damage, an overflow of sewer water, and even more serious issues such as health concerns. A professional plumber should be called immediately following a sewage backup in order to properly assess the situation and deal with it safely.
Burst Pipe
When a pipe bursts, it can easily cause thousands of dollars in damages, especially if the pipe is bursting in an area like a kitchen or bathroom. Pipes bursting in the basement or crawlspace can cause up to 95% of the damages. This is because the cold air, water and soil from the crawlspace enter your property and ruin your flooring and carpets. To prevent this from emergency plumbing repair from happening, we advise our customers to get a once-a-year inspection of their pipes and make sure that their pipes are in good working order.
Clogged Drains & Flooding
A clogged drain is a much more immediate issue than a slow drain. Things do not become a plumbing emergency repair until you have standing water in your home or business. For these issues, you should call a plumbing company, like Broward Plumbing, right away. Be sure to close the main water switch off to prevent further flooding while a plumber in Broward County is on the way.
Handle Emergencies with Certified Plumbers Near Boca Raton
The plumbing system in your home is a major component that is responsible for the correct functioning of your whole house. You must be able to recognize when your plumbing system needs an emergency plumbing repair and when you need to call a plumbing company so that you can get it fixed before it becomes a bigger issue. Even if you have just started experiencing plumbing problems, it is best not to delay repair as soon as possible. Contact Broward Plumbing today.