What Shouldn't Go Down Your Drains
Posted in Drain Cleaning , on June 04, 2021
---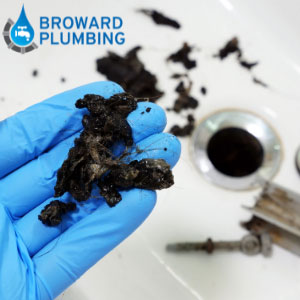 We've all been guilty of treating our drains like a garbage hole. While it is easy to simply dump things down our drains, these shortcuts can cost hundreds of dollars in emergency plumbing services! Flushing things down your toilet or sink can cause problems with your plumbing system, causing build-up, blockages, and clogged drains. You may need to hire a plumbing professional to resolve the issue. Thankfully, Broward Plumbing provides a 24-hour emergency plumber in Boca Raton to take care of your pesky plumbing issues. Meanwhile, here are things that shouldn't go down your drain!
Grease & Cooking Fat
Grease and leftover cooking fat are super cloggers for your drains. Cooking fat and grease can mix and solidify with other debris thrown down the drain. This can cause stubborn blockages and even cause the drain to smell as the fat turns rancid. You should safely dispose of the grease by wiping it with a paper towel or throwing it in a disposable container. If you pour grease down your drain, you'll likely need professional drain cleaning services from a leading plumber near Boca Raton, sooner rather than later.
Feminine Hygiene Products
Another no-no for your drains is feminine hygiene products like pads & tampons. These products absorb moisture and expand in size. When you flush them down the toilet, they can get stuck in the drain and cause unpleasant toilet clogs! Tampons are known to clog sewer lines and cause havoc in your septic system. You really don't want the unnecessary expense of an emergency plumbing service on account of flushed tampons. If you do end up with a clogged toilet and need a 24-hour emergency plumber in Boca Raton, trust the pros at Broward Plumbing!
Coffee Grounds
Don't believe in rumours that coffee grounds can help scrub off your drains! Coffee grounds cannot dissolve in water, so they end up coating pipes or adding to blockages in your drains. A better and eco-friendly option is to compost leftover coffee grounds.
Paper Towels & Flushable Wipes
Paper towels take a long time to dissolve and disintegrate. Similarly, most' flushable wipes' are thicker than toilet paper and take longer to break up in the drains. So putting paper towels and wipes down your pipes is not a good idea!
Flour & Dough
Dumping wet flour or dough down your kitchen sink or disposal can be disastrous for your drains! The flour can harden inside the pipes and cause unwanted build-up and clogs. A safer option is to clean up with a paper towel and throw it with the wet waste or compost it!
The Last Word
The thumb rule for disposing of anything down your drains—If you're wondering whether it's safe to do so, it probably isn't! Be mindful of what you throw down the drain, and hopefully, you won't be needing an emergency plumbing service in the middle of the night!
Need a 24-hour emergency plumber in Boca Raton? Trust Team Broward!
Whether it's a clogged drain or an overflowing toilet, the pros at Team Broward have your back! Broward Plumbing is synonymous with exceptional work, transparent prices & superlative customer service. We have been proudly serving Boca Raton & entire South Florida for decades. Our licensed and experienced plumbing crew is on-site & on call for all your emergency and routine plumbing needs! We are available 24 hours a day, 7 days a week—don't hesitate to contact us online or call us any time, day or night!