What To Do When You Have A Sewer Line Backup
Posted in General Plumbing Services, on July 09, 2021
---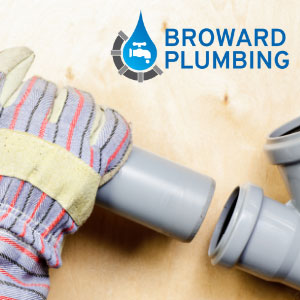 A sewer backup can ruin any homeowner's day, while the mess and odors can probably destroy your entire week! Blocked sewer lines can cause overflows and blockages in your home—a cleaning headache & a veritable health hazard! Sewer line backup & cleanup requires professional expertise and equipment like a robotic camera inspection. That is why we recommend calling in the experts at Broward Plumbing to diagnose the exact problem and restore your home. It is also advisable to avoid using the plumbing til the problem is rectified by certified plumbers near Boca Raton. Read on for a complete low-down on sewer backups!
What Is A Sewer BackUp
Every home has water lines that bring clean water and outgoing sewer lines that move the used wastewater away to the municipal sanitary lines. This wastewater is runoff from your sinks, toilets, showers, washing machines, and other water outlets. If these sewer lines get blocked or busted, this dirty water can back up into your home.
Such a sewer backup can cause reverse flow of sewage water, causing sinks to back up and toilets to overflow with germ-laden water without intervention from a certified plumber near you in Boca Raton. This water can cause water damage, contamination, and mould, so it is imperative to contact a reliable plumber for sewer line backup cleanup.
Early Indicators of A Sewer Line Backup
There are a few subtle signs and early indications when your sewage pipes start having problems. Spotting the problem early and taking proactive steps to treat it can save you from the nightmare of overflowing sewage and water damage. These early indicators include:
Slow drains throughout your home
Percolating toilets
Waste back-up going into other pipes
However, if sewage waste starts overflowing into your home, you know you have a full-fledged plumbing emergency on your hands!
Immediate Damage Control Steps
While you await the emergency plumber to arrive, make sure you—
Turn off the water going into the sewer drains
Turn off electricity in areas the wastewater is near electrical outlets
Do not use the toilets, showers, water appliances, or sinks
Keep children and the elderly away from the affected area until it is clean and sanitized. Sewer water is a biohazard that can cause infections like Hepatitis & Tetanus.
How Our Plumbers Fix Sewer Backups
A sewage backup is something that should be dealt with by plumbing experts experienced in handling such issues. DIY fixes like drain cleaning solutions can actually make things worse. Plumbing professionals at Broward Plumbing have the experience and use specialized techniques like a sewer camera inspection to get to the bottom of your backup issues. Our sewer specialists will:
Evaluate the situation & determine the exact cause of the backup
Diagnose and implement effective solutions
Ensure a fast & effective intervention
Restore the plumbing system
Fix latent plumbing issues to prevent future backups
Our state-of-the-art equipment like hydro-scrub systems and sewer camera inspections help us to clear the sewage lines efficiently. The high-pressure water ensures that all buildup inside the pipes is removed.
Sewer Solutions from Boca Raton Plumbers at Broward Plumbing
Whether you need sewer line backup cleanup or are dealing with any other plumbing issue, you can rely on Team Broward for top-of-the-line plumbing solutions and customer-focused service! Sewer line repair requires plumbing expertise and the right equipment—our plumbing technicians possess both! Call us at Broward Plumbing at any time of the day or night, all days a week, for routine or emergency plumbing services across Broward County.