What Is Causing Your Clogged Drain In Boca Raton
Posted in Drain Cleaning , on December 06, 2021
---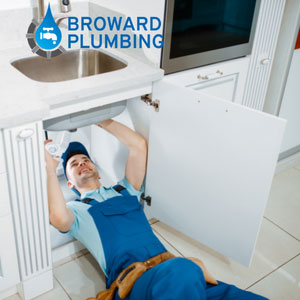 Clogged drains are a frustrating and potentially expensive issue, and as the number of people in your household increases over the holidays, your chances of needing to call a plumber in Boca Raton increases. While there are numerous causes of clogged drains in Boca Raton, most happen due to homeowners failing to take the proper precautions which results in needing a plumbing repair in Boca Raton. If you are experiencing problems with the drains in your home, this blog is for you! Here we'll cover the common causes of clogged drains, and we'll go over some tips that can help you avoid them and keep your drains clear and flowing with services like cast iron pipe repair in Boca Raton.
If your drains do end up getting clogged and you need a top-level plumbing company in Boca Raton, turn to the experts at Broward Plumbing. Our plumbers in Boca Raton are qualified and experienced, and we use advanced technology to provide high-quality plumbing solutions. We offer our services to both commercial and residential properties, so schedule an appointment with us today!
3 Main Causes Of Clogged Drains
1) Usage:
The most common cause is buildup from regular use. Over time, soap scum and residue from hair and dirt slowly pile up inside the pipes, and it gradually worsens as time goes on. Eventually, this build-up can become so bad that it forces the flow of water to slow down. At this point, the excess buildup will need to be removed, and your drain will be as good as new.
2) Hair:
Hair is another common cause of clogs within your sewer system. Clogged drains can occasionally become a problem when you have a lot of family members or houseguests. Clogged hair is one of the most common types of plumbing repairs in Boca Raton homes, and it is easily preventable by using a drain cover/trap, which will help prevent hair from going down the drain in the first place. Washable hair items such as hairbrushes, hair ties and hair clips must go in the trash or they will cause an issue for your drain. If that happens call an emergency plumber in Boca Raton, like Broward Plumbing.
3) Fats, Oils and Grease:
All sorts of food residue can build up within your system, causing clogs. The key here is to be careful what you put down the drain. Every time you run your garbage disposal, your kitchen and bathroom drains are in danger. The primary cause of these problems is grease, which can clog sewer lines or sewer drains. Grease can lead to sewer backups, leaving you in need of emergency plumbers in Boca Raton. Grease in your drains can cause problems in the bathroom, in the kitchen, in the laundry room, and in the utility sink in your garage. If you have a garbage disposal, be sure to dispose of fats, oils and grease properly. And don't pour oil down the kitchen sink.
What Causes Grease To Clog Drains
Grease is a common problem in kitchen drains, often clogged with cooking oil, unused grease from previous meals, and grease from pizza boxes. This grease congeals in your drain, causing it to get blocked over time. This is a recurrent problem if the clog is not cleared out regularly.
Clogged Drain Plumbing Services in Boca Raton
Drain cleaning is a plumbing service that you may not never have considered demanding. You may have clogged drains from time to time, but since it's something you don't think about much, you assume that it just happens sometimes.
BUT, Did you know that a blocked drain can spring a much more serious plumbing repair in Boca Raton? An entire home or building can flood with just one blocked drain. Understanding the reasons for a clogged drain and what the signs are, is very important. Check out our checklist here.
Call Our Emergency Plumbers in Boca Raton
Broward Plumbing Company knows that a clogged drain can be a real nuisance. It can stop your kitchen from functioning normally, and it can even cause a significant amount of damage to your property if left alone. We hope that you'll find our blog helpful in the future. And when you get stuck with a clogged drain, please contact our expert plumbers in Boca Raton, Fort Lauderdale and surrounding areas.