Why Are Cast Iron Pipes Causing Odours
Posted in Pipe Repair, on June 19, 2023
---
The first cast iron pipe was installed in the 1810s to replace spruce log pipes. This was because cast iron was seen as long-lasting and could handle higher water pressure. From there, different coatings have been made to slow down the corrosion process of plain cast iron pipes. Today, cast iron plumbing systems are deteriorating leaving property owners throughout Southern Florida in need of repairs and emergency plumbing services. When you need cast iron pipe repair or notice a problem with your plumbing infrastructure , our plumbers in Fort Lauderdale at Broward Plumbing can help.
Read more to learn why your cast iron pipes may be odorous.
Common Cause of Odours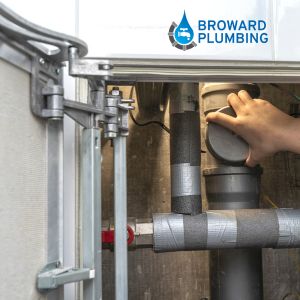 If you are smelling off-putting odours in your home, especially near sinks, that is a tell-tale sign there is something wrong with your plumbing and you may need cast iron pipe repair. These odours typically stem from cast iron pipes, and the reasons for this can vary. If you are located in an older home or building, it's more likely your plumbing consists of cast-iron pipes.
Cracks in the pipes: this usually occurs on the top side of the pipe. It's difficult to tell the start and end of the crack, but if it's the length of the pipe, you are advised to replace it. These hairline cracks are typically developed from rust buildup in the pipes. Once these fine cracks appear, it's not long after that the pipe begins to leak and fail.
Sediment buildup: sediment buildup is the leading reason our plumbers in Fort Lauderdale are called to commercial or residential properties. It can be made up of all sorts of things:
Debris and grease: food particles, soap residue, dirt, hair.
Rust and corrosion: hydrogen sulfide eventually oxidizes in the pipes causing clogs.
Calcium and minerals: minerals from the water can be left behind in the pipes, leading to blockage. In many cases, pipes can burst with calcium buildup, requiring immediate repair.
Other Common Cast Iron Problems
There are several reasons cast iron pipes still need to be installed today. Over the years, we have found flaws in using this type of pipe. Cast iron pipes are naturally heavier than pipes like PVC. Over time, with gravity, these pipes will naturally sink, making the system harder to access and causing pipes to crack. Due to the material's weight, these pipes begin to sag over time, causing buildups and clogs. With the undistributed support creates an uneven track for water to pass through.
How to Detect Cast Iron Pipe Trouble
There are easy ways to detect whether your pipes need attention.
They include but are not limited to:
Pipes are reaching 50 years of life.
Frequent issues with the plumbing system
Foul smells
Discoloured or stained tile
Broken or raised floor tiles
Pest infestation
The Benefit of Switching to PVC Pipes
Switching your pipe system from cast iron pipes before it's too late is best. Switch over to PVC pipes before the headache from leaks and pipe failure.
Benefits from PVC pipes include:
Corrosion and chemical resistant
Improves water quality
leak-free joints
Smooth running plumbing
Enhanced energy efficiency
Reduces blockages
Making the switch won't only save you from stress but will save your wallet.
Why Choose Our Plumbers in Fort Lauderdale
When needing a plumber in Fort Lauderdale, contact Broward Plumbing for reliable quality and the best solutions. Our priority is to ensure our customers are satisfied with all our services. Available anytime, 24/7, for any of your plumbing services, including cast iron pipe repair.