Why Are Your Polybutylene Pipes Cracking?
Posted in Pipe Repair, on April 27, 2023
---
Polybutylene pipes( PB) were once hailed as a revolutionary innovation in the plumbing industry due to their low cost and ease of installation. However, these pipes have become notorious for being problematic. Many homeowners have reported unexplained cracking and leaking in their polybutylene pipes. Plumbers near Boca Raton recommend urgent polybutylene pipe repair & replacement, as they may fail anytime. Thankfully, Broward Plumbing's experienced plumbers are experts at PB pipe replacement and trenchless sewer line repair. Keep reading to know why your polybutylene pipes may be cracking and how we can help.
Past: Why Were Polybutylene Pipes Used?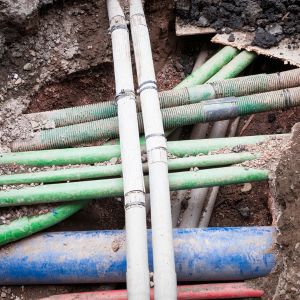 Polybutylene pipes gained popularity around the 1970s due to their relatively low cost and easy installation. Made of flexible plastic material, PB pipes were often used for hot & cold water distribution in homes across the United States, Canada, and other countries.
Present: Why is Polybutylene Pipe Repair Recommended?
While PB pipes were wildly popular, they were soon found problematic and prone to failure. They were a plumbing disaster with significant issues.
Cracking and breakage over time is the primary issue with PB pipes. Sudden leaks and water damage in homes necessitate polybutylene pipe repair & replacement. Leaks behind walls or under the flooring may go undetected with significant property damage.
PB pipes react with choline and other chemicals used to treat municipal water. This causes degradation, brittleness, bursts, and total pipe failure. Fluctuations in water pressure can overstress the pipes to create cracks and leaks.
The flaking PB pipe material can mix with your water supply, affecting its quality and causing health issues.
The high failure rate of PB pipes makes insurance companies reluctant to insure homes with PB pipes.
Corrosion & pipe degradation in PB pipes takes place inside first, so the extent of the damage may be visible only after it's too late. If you have PB pipes, contact an expert plumber near Boca Raton for a drain camera inspection asap!
Solution: Polybutylene Pipe Replacement
Polybutylene pipe repair is time-sensitive; it's a race against time as these pipes can fail unexpectedly to cause extensive water damage and require expensive repairs. Trenchless sewer line repair and replacement is the ideal solution for polybutylene pipes. The experts at Broward Plumbing recommend replacing all PB pipes with long-lasting and reliable PVC pipes. They are also more resistant to chlorine corrosion, making them a safer option.
PVC pipe installation is simple and low maintenance. Though PB pipe replacement with PVC may be a tad expensive upfront, it can save money by preventing costly repairs & water damage in the long run.
Sewer Line Replacement Plumbers Boca Raton
Knowing the potential for cracks, leaks, and sudden plumbing failures is critical if you have PB pipes in your Boca Raton home. Contact a professional plumber near Boca Raton to discuss your options for replacing your PB plumbing with reliable and dependable PVC pipes. Broward Plumbing is the leading trenchless pipe repair and replacement contractor in Broward County, with numerous PB pipe replacements over the years. We're known for quality work and exceptional service, and we stand by our installations & repairs with work warranties. Prevent unpleasant pipe failure and water damage by switching to PVC pipes today! Call us now for best-in-value consultation, upfront pricing, and hassle-free plumbing repairs!