Why Polybutylene Pipes Need Plumbing Services
Posted in Pipe Repair, on March 13, 2023
---
Many residential and commercial properties are dealing with frustrating plumbing problems, from leaks to backups, primarily because of the drain pipes installed when the building was constructed. Polybutylene pipe repair requires the expertise of a seasoned and certified plumber in Boca Raton or Broward County. The sensitivity and vulnerability of these inferior pipes leave properties throughout the region at risk for emergency plumbings. If you notice the signs, contact the team at Broward Plumbing. Using advanced plumbing technology, including hydro jet drain cleaning and robotic camera inspections, we can help you streamline your polybutylene pipe repair and replacement.
Read on to learn why you need polybutylene pipe repair and plumbing services from a certified plumber near Broward County.
Why Were Polybutylene Pipes Used?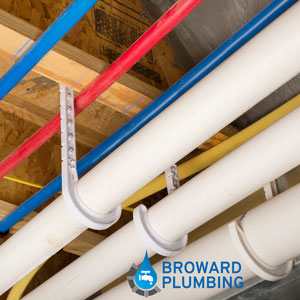 Polybutylene pipes were a popular choice for plumbing installations in the late 19070s due to their affordability and easy installation process. There was a copper shortage at this time, which made traditional copper pipes less affordable and accessible. However, it was discovered that these pipes were prone to cracking and deteriorating when exposed to certain chemicals, leading to leaks and water damage in homes and buildings. As a result of these issues, many homeowners and building owners in South Florida and Broward County began to experience significant water damage and had to incur costly plumbing repairs. Polybutylene pipes were eventually discontinued, and they are no longer permitted in new construction in many areas. Typical fixes, such as hydro jet drain cleaning, were insufficient for those still running these pipes through their property.
If you have a property with polybutylene pipes, it's essential to monitor their condition and consider a polybutylene pipe repair or replacement if necessary to avoid costly repairs down the line. In some cases, a professional plumber may recommend hydro jet drain cleaning to remove any buildup or blockages in the pipes to prevent further damage. For the best pipe repair services, contact the team of trained plumbers near Broward County, Broward Plumbing.
Signs You Need Polybutylene Pipe Repair
Polybutylene pipes have a high failure rate, and it's crucial to identify signs that your plumbing system may need a polybutylene pipe replacement to avoid expensive repairs and water damage. One of the most apparent signs is the age of the pipes since they were commonly used from the late 1970s to the mid-1990s. Additionally, visible signs of wear and tear, frequent leaks, water discolouration, and insurance coverage issues indicate that the pipes may need replacing.
Plumbing Services from Broward Plumbing
If you're experiencing any of these issues, it's recommended to contact a licensed plumber for an inspection and to discuss your options for polybutylene pipe repair or replacement. A professional plumber can assess the condition of your plumbing system and provide recommendations for the best course of action to ensure the safety and longevity of your plumbing system. Don't wait until it's too late; take proactive steps to address potential issues with your polybutylene pipes today and contact the trusted Broward County plumbers near Boca Raton.