Why Should You Call a Plumber Instead of DIY
Posted in General Plumbing Services, on January 27, 2023
---
If you're dealing with a water leak or any other plumbing issue, your initial reaction may be to turn to the internet for a DIY solution. After all, tackling a leaky faucet or a clogged drain looks easy with the plethora of information available online. Unfortunately, at-home techniques can fail to address the problem's root cause and may even worsen it. Rather than risking further damage, it's sensible to call a professional plumber near Boca Raton. At Broward Plumbing, we have some of the best plumbers in Fort Lauderdale and Broward county who can efficiently fix any plumbing problem quickly.
Here's why you should skip the DIY and call a plumber near you.
Experience & Training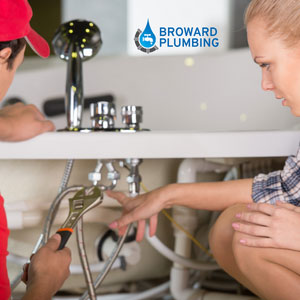 First and foremost, experience and training are critical in plumbing. Plumbers near Boca Raton undergo extensive training and apprenticeships to master their craft, and they have the required experience to handle any issue that may arise. They are also licensed & insured—if something goes wrong, you're covered. On the other hand, compare your time and experience in plumbing. A small DIY mistake can end up causing more damage. You may need a professional plumber in Fort Lauderdale to fix your DIY issue instead. Hiring an experienced plumber near Boca Raton from the start can save you trouble, money, and time as they can correctly diagnose and rectify the plumbing problem.
Full Range of Plumbing Services
Another benefit of hiring a professional plumber in Boca Raton is that they offer a full range of plumbing services in Broward County. They are trained to handle repair, maintenance, and installation. Plumbing technicians can address underlying issues that you may be unaware of, including problems that are bigger than they initially seem. A clogged drain may look like a simple plumbing issue, but it could be linked to a blockage in the main sewer line. Certified plumbers can help you identify and fix the root cause of the problem, ensuring that it doesn't reoccur.
Tools & Equipment
Professional plumbers also have access to specialized tools and equipment unavailable to the average homeowner. Your DIY experiment shouldn't require extra money for tools or equipment you will rarely use in the future. Plumbing professionals already have modern plumbing equipment and the training to use them. For example, Broward Plumbing's state-of-the-art plumbing camera inspection technology allows them to quickly and easily identify problems within your pipes. This technology can save time & money, as the technicians can pinpoint the exact location of the issue without digging up your entire yard!
Emergency Plumbers & Urgent Response
Plumbing issues can happen at any time and can be incredibly disruptive. A burst pipe can cause extensive damage to your home and possessions within hours. Thankfully, professional emergency plumbers in Boca Raton, Fort Lauderdale and throughout the Broward County area are always available to respond to emergency calls. This ensures that the problem is dealt with quickly and efficiently, with minimum destruction.
Save Your Property from Further Damage
Finally, hiring a plumbing professional can prevent further damage. Attempting a DIY fix can cause mistakes that can be severely destructive or lead to flooding or even a fire hazard. A professional plumber will have the training, knowledge, and expertise to prevent further damage to your property.
Leading Plumbers in Boca Raton & Fort Lauderdale
At Broward Plumbing, we pride ourselves on our plumbing specialists' experience, training, and expertise. We offer a full range of plumbing services, and team Broward is equipped with state-of-the-art plumbing tools & technology. We are available 24/7 for emergency response and regular plumbing services. Don't let a small leak or plumbing issue turn into a major disaster.