Why You Need a Plumber Post-Hurricane in South Florida
Posted in Emergency Plumbing Services, on September 19, 2023
---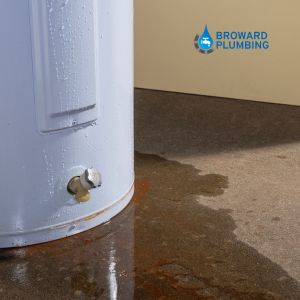 Living in sunny South Florida has its perks. Still, it also comes with a powerful reminder of nature's fury–hurricanes! Unpredictable weather and gales that sweep through can leave disruption and destruction in its wake. When the storm clouds start gathering, a trusted plumber in Fort Lauderdale at the ready can be a comforting ally. From flooded sewer lines to water heater repair in Fort Lauderdale, here are the top plumbing issues that can arise after a hurricane.
Water Heater Trouble
South Florida residents know the importance of a functioning water heater, especially after a hurricane. You could be left shivering when the storm causes damage to your heating system, or stormwater gets into the water heater. A damaged water heater can be a safety hazard–get a professional to assess and undertake prompt water heater repair in Fort Lauderdale. Broward Plumbing's experienced technicians can restore your heater unit, ensuring you have hot water when most needed. As a precaution, always turn off the heating unit before a hurricane or storm.
Flooded Sewer Lines
Heavy rains and flooding are common during hurricanes. This excess water can overload your sewer lines, backing up and blocking underground sewer lines. The lines can also shift and prevent correct drainage. Post-hurricane sewer lines are a messy and unpleasant problem that requires immediate attention. Broward Plumbing's expert plumbers in Fort Lauderdale provide emergency response services to clear clogs, repair damaged sewer lines, and prevent future sewage backups.
Water Leaks & Pipe Leak Repairs
Hurricanes can wreak havoc on your plumbing system with hidden water leaks that you might overlook until too late. Stormwater can infiltrate your home and damage pipes, triggering leaks and burst pipes. Fixing leaky pipes is critical to prevent water damage and unwanted and expensive repairs. Broward Plumbing's experienced technicians have the skills and tools to detect and fix hidden leaks to ensure your home stays dry and safe.
Burst Pipes
Burst pipes are one of the most catastrophic plumbing problems after a hurricane. The force of strong winds, heavy rain, and debris can put immense pressure on your plumbing system. Ensuing pipe ruptures can result in extensive water damage and a costly cleaning mess. A reliable plumbing company like Broward Plumbing can swiftly repair or replace damaged pipes and prevent further harm to your property.
Navigating Post-Storm Challenges with the Best Plumbers
Thankfully, technological advancements have made storm tracking and prediction possible. A reliable plumbing partner like Broward Plumbing has experienced plumbers in Fort Lauderdale to help you weather the uncertain hurricane season. Our expert services will keep your plumbing system in shape, no matter the weather!
Plumbing Inspections: Regular Broward Plumbing inspections can check for sewer obstructions and debris, identify potential issues, and recommend necessary repairs or upgrades to ensure your plumbing is hurricane-ready.
Emergency Response: Our 24/7 emergency plumbing services mean you can count on us to be there when disaster strikes. We're a phone call away–ready to tackle all post-hurricane plumbing problems.
High-Quality Services: With more than a decade of dedicated plumbing services across South Florida, Broward Plumbing is synonymous with high-quality plumbing services that are reliable, advanced, & cost-effective.
Be proactive and Be prepared–Have Broward Plumbing on speed dial to protect your home and family. We'll get your plumbing running smoothly, come hurricane or sunshine!