Why You Should Schedule Cast Iron Pipe Inspections
Posted in Pipe Repair, on July 27, 2023
---
Cast iron pipes were once the gold standard in plumbing in South Florida, particularly Broward County and the West Palm Beach area. Widely popular in the '70s, they were an unfortunate disaster due to their interior corrosion problems and blockage issues. Join us as we explore why regular pipe inspections are imperative for your South Florida home. And how Broward Plumbing, your expert plumber in Boynton Beach, can be your trusted ally for seamless cast iron pipe repairs.
Cast Iron Pipe Drawbacks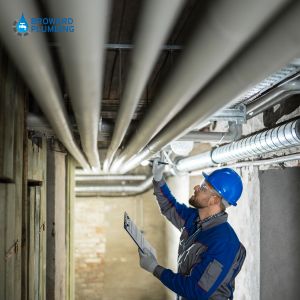 As the years go by, cast iron pipes can face significant deterioration and compromised functionality. Cast iron damage includes:
Corrosion, rusting, and flaking due to the chemical reaction of wastewater and cast iron.
Blocked & slow drains.
Sinking and shifting of soil due to the heavy weight of cast iron pipes. This can trigger cracks and breaks that require professional cast iron pipe repair and replacement by a competent plumber in Boynton Beach.
Sewer backups with messy & extensive water damage, unsanitary conditions, and mold infestation.
Scheduling routine inspections allows homeowners to stay ahead of cast iron pipe damage and prevent expensive & disruptive plumbing emergencies.
How to Approach Cast Iron Inspections
As explained above, cast iron pipes can experience rapid wear & tear over an extended period. Regular inspections by an experienced professional from Broward Plumbing can identify early signs of damage or blockages lurking within the pipes. Robotic camera inspections are a cutting-edge solution that allows Broward Plumbing experts to have inside access to the plumbing system without disruptive or invasive measures. This technology provides a detailed visual assessment of the cast iron pipe interior via a flexible robotic drain camera inserted into the pipes. This ensures quick and early identification of cast iron damage and prompt intervention.
How to Clear Cast Iron Pipe Clogs
Clogs are the nemesis of any plumbing system, and cast iron pipes are susceptible to severe blockages. Thankfully, advanced Hydro-jetting technology can help clear stubborn blockages. This powerful technique employs high-pressure water streams to break and clear out built-up clogs and debris. Professional plumbers in Boynton Beach will insert a specialized water nozzle inside the cast iron pipe and direct pressurized water streams to dislodge and clear the clog. This also restores the pipe flow capacity and prevents potential backups. Broward Plumbing's skilled plumbing technicians are well-versed in this non-invasive and environment-friendly method for clog-free cast iron pipes.
When to Switch to PVC Pipes
Cast iron pipes are known to deteriorate over time, and most plumbing experts recommend switching to practical modern alternatives. PVC pipes offer numerous advantages–superior corrosion resistance and smoother interior surfaces with reduced likelihood of clogs. If you're facing recurrent cast iron issues or a robotic camera inspection reveals extensive damage, Broward Plumbing can help you transition smoothly to PVC piping.
Broward Plumbing for Reliable & Hassle-free Plumbing
Broward Plumbing stands out as a beacon of reliability, expertise, and customer satisfaction in the vast sea of plumbing companies. With decades of experience serving the South Florida community, we have deep insights into cast iron pipe repair and other plumbing challenges. Broward Plumbing's licensed plumbers in Boynton Beach are committed to using cutting-edge technologies and best plumbing practices to safeguard your plumbing system. Call now to schedule a Broward Plumbing robotic camera inspection & seamless cast iron pipe repair!